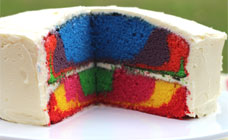 Rainbow marble or layer cake recipe
Up the 'wow' factor with this bright rainbow cake - perfect for birthdays, special occasions and just about any time you want to create a splash of colour. As well as looking and tasting great, it's also relatively easy to whip up!
Ingredients:
2 cups (300g) plain flour, sifted
1 1/2 cups (335g) white sugar
1 tbsp baking powder
3/4 cup (180ml) milk
1 tsp vanilla extract
1/2 cup (125g) butter, softened
3 eggs, lightly beaten
Food colouring
red
yellow
pink
green
orange
purple
blue
Buttercream icing
200g butter, softened
2 tbsp vanilla extract
2 1/2 cups (380g) icing sugar mixture
2 tbsp milk
Method:
Preheat oven to 180°C, or 160°C fan-forced. Line 2 x 20cm round cake tins with baking paper and set aside.
To make the cake batter, place the flour, sugar and baking powder into a bowl. Using a mixer, beat in the milk, vanilla, butter and eggs until combined. Beat for 4 minutes.
Divide the mixture evenly between seven bowls. Using the food colouring, tint each bowl of mixture the colours of the rainbow (please see Notes for directions on food colouring).
In the first cake tin, pour in the red, yellow, pink and half of the green batter. Pour each directly into the centre of the tin to create layers.
Repeat with the second cake tin, beginning with the remaining green mixture and then the orange, purple and blue.
Bake for 20 minutes or until centre of cakes bounce back after being touched lightly. Remove from tins and cool on a wire rack until ready to frost.
Icing
With an electric mixer, beat the butter until it's pale and fluffy. Gradually beat in the vanilla and icing mixture, half a cup at a time. Beat in the milk at the end until well incorporated.
To assemble, place the cake with the red bottom on a serving plate and spread 1/2 cup of icing over the top using a flat-bladed knife.
Place the second cake on top and cover the whole cake with the remaining icing.
Find more party food ideas:
Browse all basic cakes and icing: