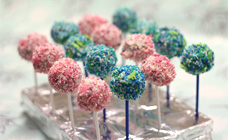 Cake pops
These little cake pops are made from crumbled cake mixed with frosting and coated in chocolate.Decorate with anything you fancy. Find more on Kidspot New Zealand
Ingredients:
1 box chocolate cake, prepared ( I used Betty Crocker Devils food cake)
1 container Betty Crocker creamy deluxe frosting, chocolate
1 bag (375g) white chocolate melts
Sprinkles of your choice
Lollypop sticks
Method:
Cut the prepared cake in half and crumble by rubbing the two halves together.
Pour in the creamy deluxe frosting and mix using a spoon.
Line a baking tray with baking paper and form the balls by rolling a tablespoon full in your hands for your cake pops.
Put the tray in the freezer for 20 minutes.
To melt the chocolate, put a saucepan of water 1/3 full on the stove. Bring to the boil and melt the chocolate in a heatproof bowl over the water, ensuring that the water is not touching the bottom of the bowl. Turn off the heat but leave the bowl sitting over the hot water.
Remove the cake balls from the freezer 10 at a time and push the lollypop stick about 1cm into the ball. Dip them into the chocolate and cover with sprinkles.
Remove the next 10 cake balls and repeat until completed.
Find more party food ideas:
Browse more party food on a stick recipes: