The top 10 best birthday party themes for kids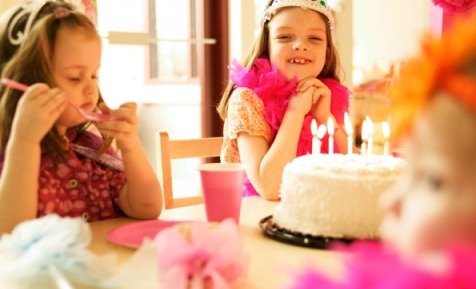 Honest now, hands up who's felt a twinge of dread with the realisation that soon another kid's birthday will be upon you with all the pressure to put on a good show? Fear not, all you need is planning and a great theme and everything will fall into place. With a bit of help from our list of the 10 best birthday themes out there …
1. Messy theme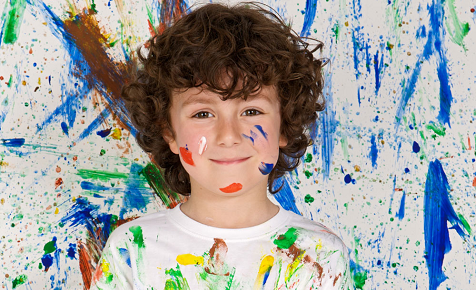 Is there a kid out there that doesn't like getting dirty? Your house usually ends up getting trashed after a kids' party anyway, so instead of trying to fight it, embrace it! Let the dress code be 'old clothes' and have your guests decorate their own smocks (i.e. old T-shirts from Vinnies) with paint handprints. Safely clad, you can then set up stations outside of messy, gooey activities, from making oobleck slime, to a jelly filled wading pool, messy crafts like paper mache and messy cooking such as decorating their own cupcakes with chocolate icing and cake toppers. Have a hose handy in the backyard to spray them all down between activities and try not to think about the clean-up afterwards.
2. Robot theme
Most young boys go through a robot phase so indulge your little tin man on his special day and prepare to have a bunch of small boys walking stiffly around your house for several hours. Their screwed-together invitations will instruct them to come dressed as a robot – think cardboard boxes and aluminium foil – and they'll be entertained with crazy robot games like 'dance like a robot then freeze when the music stops' and 'robot running races' (you'll certainly be entertained watching!). Decorations can also be fun with lots of silver and metallic streamers and balloons and various nuts and bolts strewn everywhere.
3. Superhero theme
There's something about wearing a cape and undies on the outside of lycra tights that has an eternal appeal to young lads. If your boy (or girl) is obsessed with superheroes, bring his world to life with a superhero-themed party featuring a large city skyline as a backdrop for your superhero invitees to pose in front of. You can also set up props on the ground and then snap the kids lying down to look like they're flying. For the sewing-challenged, we have a great no-sew cape and mask you can make, which is really all the costume you need. A great idea for a cake is to take a photo of your child dressed in their costume beforehand and have a bakery use digital technology to turn it into icing. Now that's a super-heroic feat in itself!
4. Pirate theme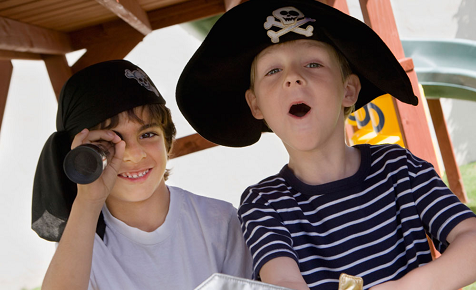 Ahoy, me hearties, ye all be invoited … some old parchment paper scroll invitations will set the tone for your pirate-themed parrrty – tear them up and put them in an envelope for your invitees to piece together like a puzzle. Costumes don't need much more than an eye patch and a bandanna or pirate's hat, while decorations should consist of lots of red, white and black flag bunting, skull and crossbows aplenty, black netting and some blue material to represent the sea. A pirate ship might be tricky, but a gangplank could well be doable! Gold chocolate coins on the party table and a treasure chest centrepiece full of contraband will truly set the scene, while your mini pirates will be thrilled by games such as pin the patch on the pirate, walk the plank and a message in a bottle treasure hunt.
5. Sports Carnival party theme
A good old-fashioned sports carnival will keep the kids active, outdoors and having fun. The party games can also be rather nostalgic for the adults. To really make the theme, place guests and any parents on one of two "house" teams and ask them to wear their team's house colour. Make up the invitations like a certificate with a medal on them. Inform the child which "house team" they are on. Tell them to think of coloured tee-shirts, matching socks etc. Involve the kids in carnival themed activities like Three legged races, apple bobbing, sack races, egg and spoon races and present them with a gold medal when they are done. Send them home with a party bag filled with a punch balloon, sports whistle and a soft bean ball.
See here for more Sports Carnival party themed ideas.
6. Ballet theme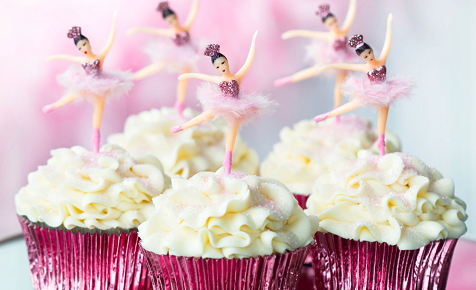 Little girls love to dance and dream of being a ballerina, so throw your little twinkletoes a party to make her dreams come true. Send out invitations resembling tickets to the ballet and I'm sure none of the invitees will object to having to come wearing a tutu! Set out a large area for dancing, preferably with some large mirrors around and play musical statues or do some basic ballet moves that they have to copy – a pirouetting competition, perhaps. Other game ideas include pin the tutu on the ballerina or have them decorate Jiffy shoes or bun rings for their hair. Present them with a ribbon wand on arrival to play with and take home and feed them some tutu cupcakes.
7. Tea party birthday party theme
Something about tea parties is delightfu! A tea party is a lovely theme on it's own, or for an extra dose of fun, you can make your child's birthday party a Mad Hatter's Tea Party, a floral themed tea party or just a pink tea party where everything at the party is pink! A simple tea party invite could be dressed up by being slipped inside a doily envelope or tied up with a piece of lace. Make some gorgeous ribbon decorations and place cushions on the grass or floor for kids to sit on. Let your cake take centre stage on the party food table and decorate it with gentle ruffled piped icing and ribbons that are tied and glued to wooden skewers. Choose fun tea-party activities like musical chairs and pom pom making. You could also give each child and inexpnsive tea cup and saucer from a budget store and get them to draw all over them with porcelain pens.
8. Sparkle theme
What little lady doesn't love a bit of sparkle, glitter and glitz (or grown-up lady, for that matter)? Show her a dazzlingly divine day that starts off with party invitations created with a glitter pen and a judicious sprinkling of the glittery stuff. When it comes to costumes, $2 shops are your friend – pick up a sparkling hat, gloves, ties and scarf or a favourite sequinned dress. Sparkly metallic garlands and streamers will keep the joy going, with a huge glittery piñata as the centrepiece. Activities can include making gorgeous sparkly artworks, glitter face painting and a big shimmering disco ball for dancing, while the menu can include cupcakes decorated with little silver balls.
9. Rainbow theme
When you just can't choose a theme, you can't go past colour and lot's of it! Turn the cheeriness of colour into a party with a rainbow theme. Party invitiations can be a drawing of a rainbow made by the birthday child on a white piece of cardboard, postcard size. Ask the children to come dressed head-to-toe in their favourite colour. Make the decorations super colourful, make a balloon banner and make it into an arch. Play great games like the dougnut game, by hanging colourful streamers from a tree branch with doughnuts hanging from them. Sort all lollies by colour and pop them in clear glass jars. Make a rainbow cake as the tables centrepiece. Send each child home with Fruit Loop jewellery and a little bag of chocolate coins from the rainbow's pot of gold.
10. Princess theme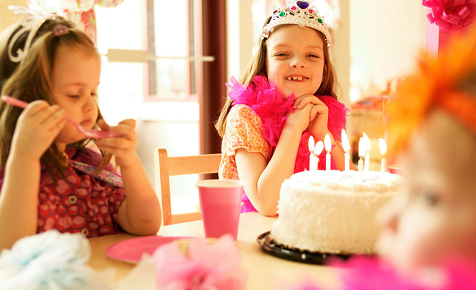 If your daughter is obsessed with all things princessy, throwing her an over-the-top princess party is sure to have you all living happily ever after. With pretty pink and silver decorations, you can create a pink carpet for the guest princesses' grand arrivals. As they make their grand entrance, each princess can be presented with a wand and tiara and photographed at a 'throne'. The list of possible princess foods is endless, from princess crown cupcakes to biscuit wands to swirly meringues and little crustless sandwiches. The little princesses can amuse themselves by making cupcakes, creating their own tiaras out of foil, card and glitter, playing 'pin the crown on the princess' and musical statues and seeing who can balance a book on their heads for the longest. Finish up with a little princess pampering session of nail painting. Even Kate Middleton would be impressed.
This article was written by Zoe Meunier for Kidspot.com.au and has been edited and adapted for Kidspot.co.nz