Plan the family Christmas calendar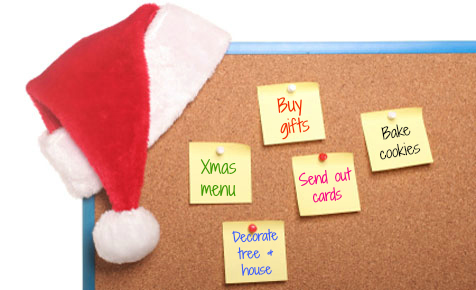 By Alex Brooks
Christmas can easily become such a stressful time of year -- too many events and not enough blank boxes on the calendar, too many presents to buy and not enough money in the bank. Too many tasks to achieve and only one person to do it all - you!
It's never too early to get your busy calendar organized to sort out your family's commitments at what is a busy time of year. If you want your holiday season to be family-oriented and chaos-free, guard your family's time together.
Here are a few tips to keep your upcoming Christmas season a bit less stressful.
What type of December does your family enjoy?
Take a moment with a pen, and list three to five words that describe your ideal Christmas season. Will it be rushed but fun? Chaotic and action-packed? Or would you prefer to take things at a slower pace this year?
Plan the family calendar carefully
Now take your calendar, and get it up to date - at least through the end of the year. Write in the upcoming school performances, the work Christmas parties, and the day you'll want to organise a babysitter to go Christmas shopping without the kids hanging off you. When your calendar is up to speed, your brain isn't scattered and you don't have that nagging I-know-I'm-forgetting-something feeling. You can even add the things you'd like to do but aren't sure yet if you will. Do you want to take in a performance of a Christmas pantomime, or schedule a visit to Santa at the local mall? Look up some dates and mark them in - it's annoying to miss out on the things you really want to do just because the dates slipped by.
Work out your Christmas commitments
Once your calendar is up to date, check that there is enough white space to add new things in. If you're booked solid, make a plan not to accept any more commitments. It also helps to make a list of things your family - and you - want to get done before December 25.
Meal plan to save your sanity
December is always a busy month for most families - holiday parties , school events, and shopping. Keeping up with household tasks like cooking dinner easily fall to the wayside. Pizza delivery becomes all too common, and healthy, sit-down meals become rare. Simple meal planning at this early stage can save you some extra dollars for Christmas shopping, plus a whole lot of stress.
With a simple meal plan, you can easily double your recipes in the first half of December, so that in the second half - when you're swamped with holiday festivities - all you have to do is thaw, heat and serve.
How to stay organised this Christmas
Find more Christmas ideas on Kidspot