6 simple Christmas decorating tips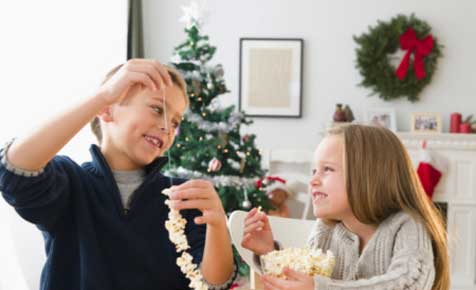 It's only natural that you'd think of choosing a theme to decorate your home for Christmas. Having a unified theme helps the look to flow from room to room or tree to table. Simple strategies and a dash of creativity can go a long, long way when it comes to decorating. Try these ideas for a festive home:
1. Declutter for Christmas
Look around. What do you see? Dirty carpets. Furniture that's seen better days. There's nothing like Christmas to bring us face-to-face with the non-magazine-worthy reality of our own living space. But it's time to get things organised, with a good clear-out to make way for all those new presents and decorations coming your way.
2. Decorate with what you have
Before you dash out to the craft store or decorating shop, pay a visit to the attic or storage room. Memories fade from year to year, so refresh yours with a quick inventory of the decorations you already have on hand. Can you update your decor with a few simple additions?
3. Be inspired by nature at Christmas
Wherever you live, look to the natural world for a source of inexpensive decorations. Look around you for inspiration, and bring Mother Nature inside for Christmas. Her price is right! Potted poinsettias, sprigs of Christmas bush and the sound of summer cicadas chirping loudly outside all scream "Christmas" without having to purchase a single ornament from a department store.
4. Decorate with your own colours
Each year stylists and magazines promote a new, hot colour schemes, hoping to spur improved sales through obsolescence.
The best defense against the annual hot-colour changeover is a personal decorating strategy: choose a color, a texture and a metallic and stick to it for life.
For your personal colour, choose anything except green, which is the beige of Christmas decorating. For texture, think or satin, or velvet or even checks. Metallics like silver or gold can also add texture.
How does it work? Say you've chosen the colour arctic white, the texture silk, and gold as your metallic. So long as a new decor item contains at least two of your three personal choices, it will work year in and year out.
Forming a personal decorating strategy is a smart move. Shopping the after-Christmas sales is much easier when you know to grab every velvet thing on that sales table.
5. Display collections
Christmas decorating can be a great excuse to display those collections you don't normally put out for other people to see. Group grandmother's old china cups and saucers around a teapot on a tray, and add some baubles and - voila - a cute little Christmas-themed display that mixes sentiment with Christmas.
Showcase any special collection that you can't have on display all year. Christmas is the perfect time to give these items a place of distinction, enjoy them, share them, then put them away until next year.
6. Make your own decorations
Food and decor intersect at Christmas time, so why not try cooking up some decorations? Build a gingerbread house with the children. No matter how crooked the walls or droopy the roof, you'll have created a centerpiece for the dining table, and some memories along the way.
Make Christmas biscuits that can be hung on the Christmas tree. Use a plastic drinking straw or skewer to punch holes in biscuits before you bake them, then string a ribbon through the holes and hang your creations on the tree. Even such simple touches as a bowl of nuts on the table serves the holiday decor scheme.
Americans thread strings of popcorn to hang on their trees - another cheap and easy decorating idea you can cook up from home.
Find more Christmas decorating ideas on Kidspot