Corkboard card display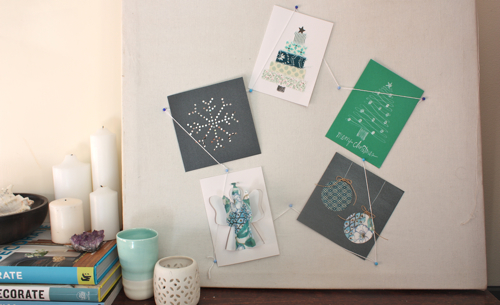 Pegs on string is not a new way to display Christmas cards, but this might be. On a simple corkboard, make a star shape and peg or slip the cards inbetween the string for a display idea that is as decorative as it is functional.
You'll need:
A corkboard
String
Pins or small nails
Scissors


Step one
Push pins into the corkboard forming the points of an invisible star. You can either do this by eye, or use a template of a star that you have traced onto paper. Don't push the pins all the way in. Nails a little longer than typical pins also work in place of pins.
Step two
Tie the end of a piece of string onto one pin. Stretch it up to the next pin and wind it around the pin gently, continuing on to the next pin in the shape of a star. Go around again so there are two layers of string between all the pins.
If your star looks a little wonky, now is the time to gently move the pins into a better position. Push all the pins in as far as they go into the corkboard to secure.
Step three
Use pegs to peg cards onto the string, or simply slip cards between the two pieces of string.
Browse Kidspot Christmas crafts