Make your own bon bons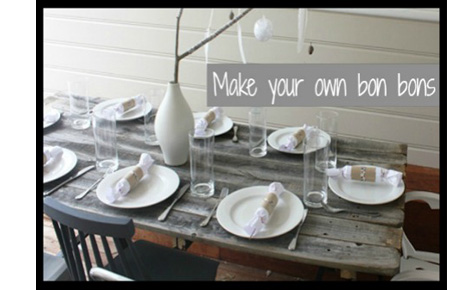 If you have found yourself searching for the right Christmas bon bons to decorate your table, stop looking! We have a craft here for you to do with the kids that's not only simple and fun but totally personal. Create your own bon bons and fill them with whatever you like!
You will need:
a bon bon kit
plain and coloured A4 paper
tiny confetti or glitter
sticky tape
glue
string
a selection of jokes
chocolate or goodies to fill the bon bon
decorative scissors
Here's how:
Step 1. Put the snapper from the bon bon kit into the tube and roll the tube into the paper.
Step 2. Close off one of the ends of the bon bon, keeping the snaper rolled into the end.
Step 3. Using the open end, fill the bon bon with your goodies.
Step 4. Bunch this end up making sure to leave the snapper in the bunched up paper
Step 5. Cut a strip of coloured paper with your decorative scissors for the outside of the bon bon.
Step 6. Glue a shape, a name or a design on to the bon bon and cover in tiny confetti or glitter.
Step 7. Leave to dry and place on the table for personalised place settings.
Notes:
Jump online and personalise the bon bon jokes to the person you are listing on the place setting. You can then make kids jokes for kids and the adult jokes a little more giggle-worthy.
The only limit to your decorations is your imaginations – go for it!
Colour schemes are a great way to dress your table and make it suit your occasion.
Crafted by The Happy Home Blog.