Make your own: Christmas angel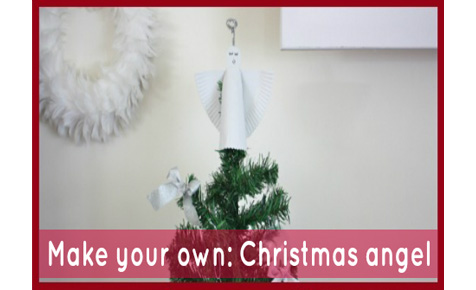 There is something more special about a Christmas tree when there is an angel watching over it. Get the kids to decorate their own Christmas angel for the top of your tree this year with this simple Christmas craft.
You'll need:
big paper plate
scissors
decorative scissors
scalpel or utility knife
pencil
pipe cleaner
sticky tape
stapler
chopping board
black marker to draw on the face
Here's how:
Step 1. Gather your supplies.
Step 2. Use your decorative scissors to trim the edge off the plate to make the wings and dress a little prettier.
Step 3. With the pencil, draw the angel on your plate.
Step 4. Cut out your outline. Use your scalpel to cut the line within the wing. This will form the slit to keep it together.
Step 5. Turn the plate over so the rounded lip of the plate is facing away from you and bend the sides around to the back, using the cut edges of the dress as your natural guide.
Step 6. Place one wing through the slit on the other side as far as it will go. Staple in place to secure.
Step 7. Bend one end of the pipe cleaner around your finger and twist into place.
Step 8. Cut off the end and tape in place on the back of the head. Draw on a face and place on top of the tree.
Crafted by The Happy Home Blog.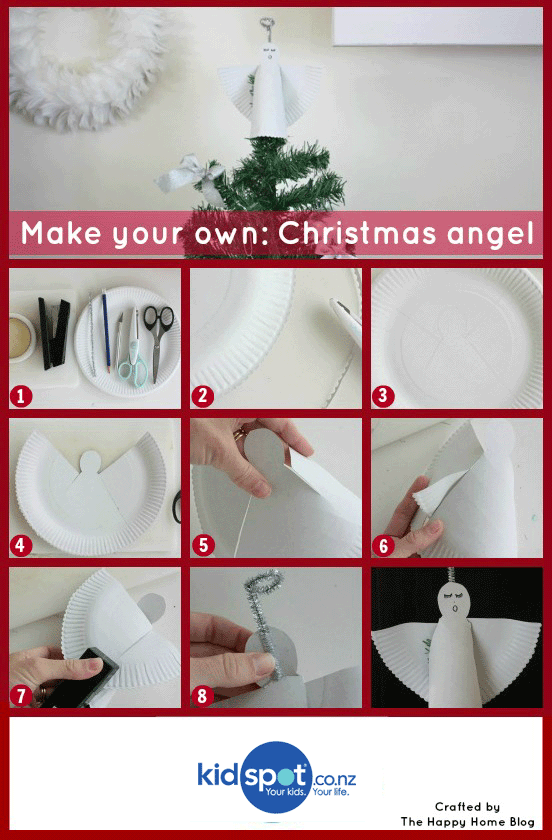 Browse Kidspot Christmas crafts