Kmart Wishing Tree Appeal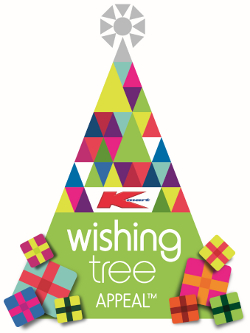 Be a real secret Santa
The Kmart Wishing Tree Appeal is now open in all Kmart stores. Once again, Kmart will be collecting donated gifts for the Salvation Army to distribute to over 40,000 Kiwi kids who may otherwise go without this Christmas.
Simply purchase a gift of your choice*, fill in a Wishing Tree gift tag (available from any Kmart store), attach to the present and pop it under the tree to spread the joy of giving. Without the generosity of the public, many financially disadvantaged families will experience a bleak Christmas Day. However, the thoughtful contributions of New Zealanders will put a smile on a child's face when they wake on 25 December.
This year's Kmart Wishing Tree Appeal will be collecting gifts in stores around the country until 24 December. Visit http://www.kmart.co.nz/WishingTree to learn more.
Kmart also has some initiatives running for other ways that you can donate to the Appeal, with options for those who may be a little more rushed for time or wish to contribute a monetary amount. To put a smile on the face of someone in your community visit www.kmart.co.nz/WishingTree for more details.
*Kmart welcomes gifts purchased from any retailer, not just Kmart stores.