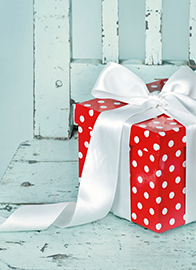 Easy online Christmas gifts for Mums
Give the link to this page to anyone who asks you what you would like for Christmas or use it to help you choose a special gift for your mum. Kidspot's Christmas gift guide allows you to avoid the shopping mall and choose Christmas presents online.
Chair
Summer is for relaxing and for that you will need this deluxe reclining sun lounger.
From : Torpedo 7
Price : $99.99
Buy Now!
Ring
Delicate and keepsake, these rings are designed to layer and wear together as a stack. Each design is available in precious sterling silver, 18k gold vermeil and 18k rose gold vermeil.
From : Ore Jewellery
Price : $39
Buy Now!
Tea infuser
Simply fill Mr Tea's pants with your favourite brew and let him 'hang out' to infuse. Made from food grade silicone.
From : Funky Gifts
Price : $24.90
Buy Now!
Towel
This giant-sized burger beach blanket is a tasty way to lounge at the beach. ..
From : Funky Gifts
Price : $59.90
Buy Now!
Tea towel
100 % natural (unbleached) ethically sourced cotton tea towel hand screen printed with the hand drawn God Loves a Dryer design.
From : Pink Flamingo
Price : $30
Buy Now!
Watch
The Horse brand combined with rose gold - completely on point!
From : Paper Planes
Price : $169
Buy Now!
Slides
A stylish and comfy slide pefect for summer
From : Country Road
Price : $109
Buy Now!
Candle
Pink grapefruit soy candle with lovely wooden lid
From : Citta
Price : $59.90
Buy Now!
Polish holder
Where has this been all my life! The Tweexy Nail Polish Holder is an innovative, spill-proof beauty staple that makes polishing nails easy!
From : Not Socks Gifts
Price : $24.95
Buy Now!
Zebra Slipabout
A simple classic backless style sheepskin slipper with a wedged sole. Sheepskin inner and zebra print fabric outer.
From : Classic Sheepskins
Price : $55
Buy Now!
In This House Decal
In This House decal comes in a range of sizes and colours. Choose from a range of other lovely wall quotes
From : Cheeky Raskal
Price : from $24.99
Buy Now!
Cook book
In Homemade Happiness, there are no hard-to-find ingredients or complicated cooking techniques – just a vast and tempting array of delicious recipes designed to make you a legend in your own kitchen. Can be signed by Chelsea
From : Homemade Happiness
Price : $49.99
Buy Now!