Get through Christmas jobs faster with these cheeky ways to get kids involved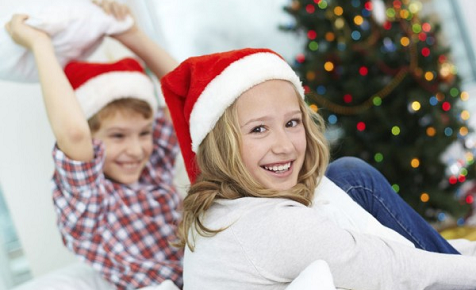 Parents don't have enough to do for Christmas. No, let's make it school holidays for six weeks at the same time! That'll be fun...
If I ever find out who's responsible... well, let's not think about that at such a special time. Instead, let's figure out how to kill two birds with one stone (not a very nice saying when talking about your children).
Here are some activities that will keep your children entertained while helping you tick items off your to-do list. Just call me santa.
Christmas crafts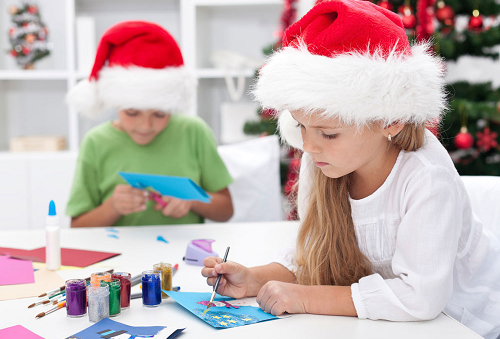 Getting the kids to make all your Christmas goodies will not only keep them entertained, but you'll save lots of money. The kids will love seeing their handiwork up around the place too!
1. Christmas card creativity
Everyone loves a handmade card. It's personal and one of a kind.
2. Practise their penmanship
Handwritten envelopes are a rare sight nowadays and a novelty for children. Give them your address book and put them in charge of finding the address to match the name inside the card. They can practise their fancy handwriting and even put the stamp on! (It's the little things...)
3. Deck the halls
You can never have too many decorations and children can make them for hours.
4. Oh Christmas tree, oh Christmas tree...
Sit back and relax while the children go nuts on the tree. You can always go over it afterwards to fix everything up, but at least they'll get all the decorations out of the box for you! You might want to take charge of untangling the lights first though...
5. Tag team
Print out these cute Black and white gift tags and have your kids colour them in for a wonderful personal touch … while keeping them out of your hair for an extended period. Win-win!
Food festivities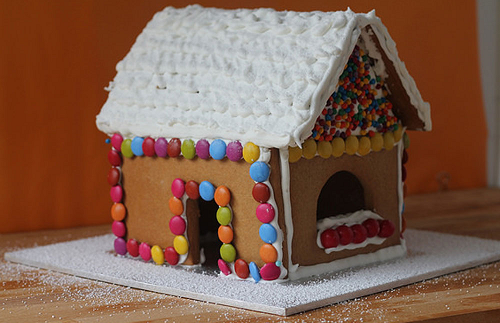 Rather than trying to take on all the Christmas food preparation yourself, get your kids involved. It will be a fun bonding experience for all and will fast become a family tradition.
6. Clever cookies
These Christmas cookies have multiple uses! They'll not only get the children helping out in the kitchen, but they make great gifts. AND they can also be edible ornaments on the tree that you can snack on whenever you're feeling nibblish.
7. Gingerbread house decorating
This is another edible masterpiece that can act as a table centrepiece. The children can make one each and you're sorted for bring-a-plate ideas!
8. Brilliant brownies
Wrangle the kids to help you make these gorgeous Christmas tree brownies – they make perfect little gifts or look great together on a platter to take to a Christmas party.
Christmas activities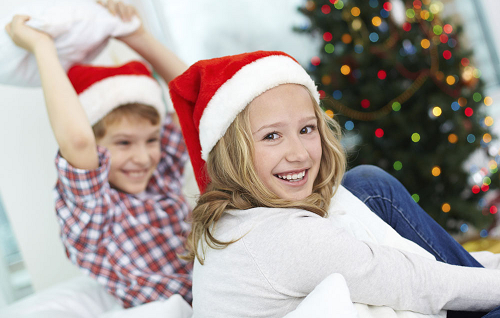 Just looking to get the children out of your hair? These activities are perfect for getting them into the Christmas spirit (if they're not already!)
9. Reindeer games
If your children are on the dramatic side, they can make cute reindeer masks and reenact the song Rudolph the Red Nose Reindeer for you.
10. Colour therapy
This is a nice quiet time activity that can also give you some more wall-decorations.
11. Dear Santa letters
Have your kids write some letters to Santa about what they might like for Christmas – it will give you a great indication of what they're hoping for and give you a chance to dampen down any unrealistic expectations! Even younger kids who can't write yet can get involved by cutting out items they like from a toy catalogue.
12. A Christmas tale
This Christmas game is great for parties, particularly if you're trying to encourage your child's reading.
13. Festive memory game
Get the kids feeling festive and sharpen up their memory skills at the same time with this fun Christmas memory game.
14. Snowman fun
No, we're not suggesting that it's possible to make a real snowman during a kiwi Christmas, but this is a fun party game that will result in some hilarity.
15. Name that tune
This Christmas songs guessing game is an enjoyable way for the kids to brush up on their Christmas songs before Carols by Candlelight.
This article was created by Zoe Meunier for Kidspot.com.au and has been adapted for Kidspot.co.nz