Staycation: how to holiday at home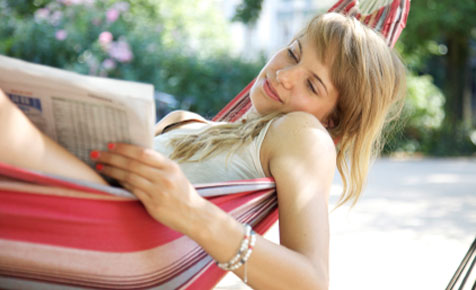 You love the idea of a holiday. When you imagine them, they're always carefree and picturesque and perfect. In reality, though, they're likely to involve long queues – of cars on the highway or people at airports or holiday attractions – and memories of spending way too much money. This year why not try something different and holiday at home – that's right, have a staycation!
We're not talking about lolling around the house all day (though days like this can be magical). The key to making a holiday at home work is to treat your hometown or city as a tourist would – with enough downtime at your 'home resort' to ensure you really relax. Here's how to transfrom your home into a holiday spot!
1. Get a cleaner
One of the best things about going on holidays is leaving all those everyday chores behind. So here's a tip – get a cleaner in as a one-off treat to get your house in order. Start your holiday in a beautifully fresh house and you'll feel better already.
2. Set up your outdoor 'chill zone'
You need an area into which you can all escape at the end of the day to wind down. Create a home 'rest haven' by establishing a chill out area. An outdoor space, like a deck or patio, is lovely in summer and the perfect spot for late afternoon drinks with friends or family barbecues. Place some indoor chairs (if you don't already have outdoor ones) outside, set up tea light holders to create a magical atmosphere at night, arrange your stereo system so that music spills outside and make sure the barbecue is clean and ready to go.
3. Get the paper delivered
If you don't already, organise to have the paper delivered each day. Nothing says holiday like lazily reading the paper each morning.
4. Make meals easy
Take a holiday from cooking by stocking the fridge with convenience meals (think bagged salad, cooked chicken) and plan to eat at least one or two meals out at a new restaurant. Also get your takeaway menus lined up and plan to eat in without any food prep or cleaning up required by you.
5. Let the kids camp out
Even if it's only the backyard, let them camp outside. If you don't have a tent, it's easy enough to fashion one, wigwam-style, out of some poles and bedsheets. Make sure you put a ground-cover under them – even if the nights are warm, the ground can get damp.
6. Get a massage
Many masseuses now offer a mobile service, and there's nothing more relaxing than indulgent pampering. Once you're massage is over, hit the sofa for a blissful snooze.
7. Go out and explore the town
Consult your town or city's 'gig' or 'events' guide at Kidspot Weekend and plan a schedule of fun places to visit. Museums and galleries are often free, especially for kids, and it's a great way to get to know your hometown again.
8. Catch a bus or a train
Children often enjoy the travel more than the destination, particularly if it's a type of travel they don't do often. If you're in Sydney, a ferry ride can be as exciting for them as a cruise!
9. Visit a new park
We tend to go to the same places over and over when we live somewhere. Why not break the mould by trying somewhere new? Check out Kidspot Weekend for inspiration and to find the most family-friendly places to visit in your city. If you live regionally, perhaps drive to the next town and check out their park facilities.
10. Never mind the sand
If you live on the coast, try a new beach or even a new one each day Also, ignore any or all sand that enters the house - remember, you're on holidays!
11. Try a new café
We all have our old favourites, and that's great. But for this holiday, branch out. Try a café you've heard of – or drive to an unfamiliar suburb and simply choose one.
12. Enjoy a date night
Make sure you spend some quality time with your significant other. Book a babysitter and hit the town.
Find more My Spot Life articles:
This article was written by Alison Tait