During 2015, parents chose more than 13,900 unique first names for the 62,500+ babies born and registered in New Zealand. The statistics released by the Department of Internal Affairs show that the most popular boys' names were Oliver, Jack and William. Hunter and Charlie were new to the top 10 in 2015. For girls, the most popular were Olivia, Charlotte and Harper. Olivia claimed the top spot from Charlotte and Harper climbed from eighth position in the 2014 statistics. Mia and Isabella are new to the top 10.
348 babies were named Oliver in 2015. According to Kidspot NZ's Baby Name Finder, the meaning of Oliver is related to the olive tree and can mean a symbol of peace.
268 babies were named Olivia in 2015 – a feminine form of the name Oliver, according to Kidspot NZ's Baby Name Finder.
A century ago
It seems that the popular names for boys have gone full circle in the last century. One hundred years ago, the most popular male names were John, William and James – two of which appear in the current top five. For girls it is much different. A century ago the popular choices were Mary, Margaret and Dorothy.
In 1965, half a century ago, the most popular names were Karen, Susan and Sandra for girls and David, Michael and Paul for boys.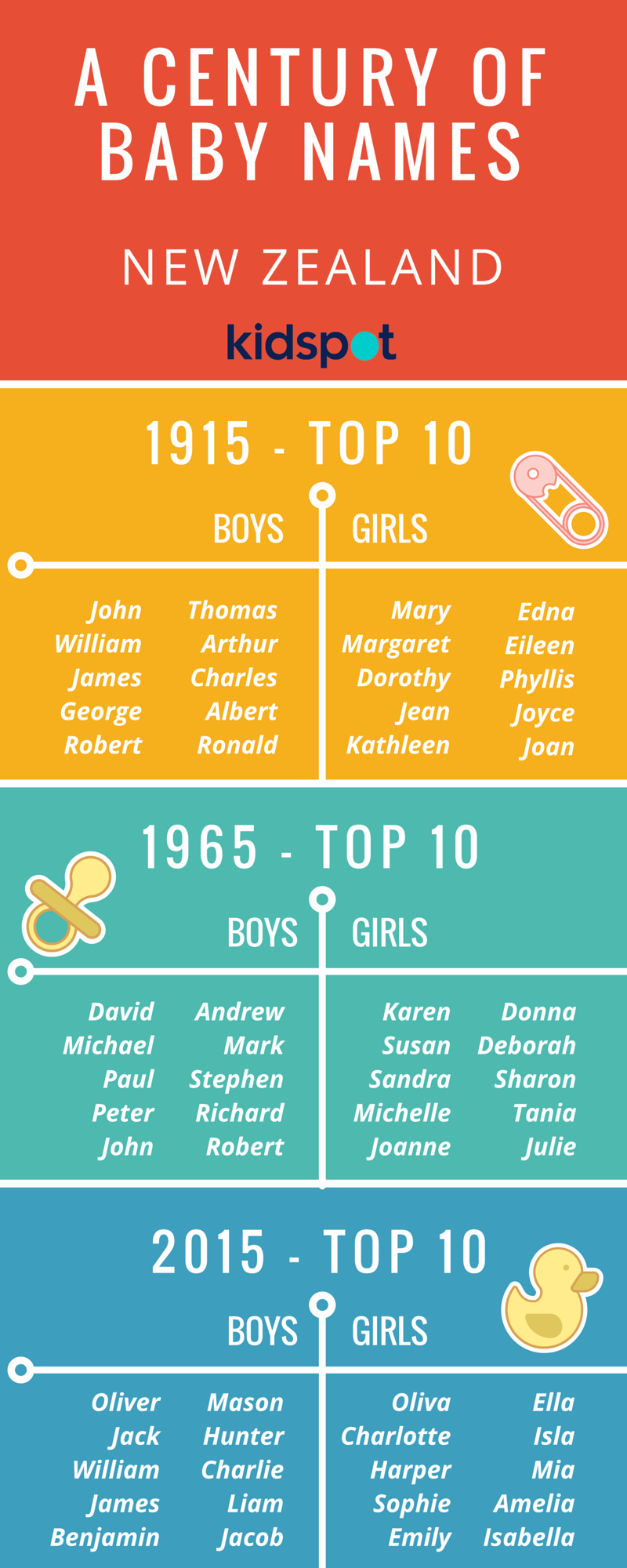 New Zealand's most popular baby names in 2015
| | | |
| --- | --- | --- |
| Ranking | Boy's names | Girl's names |
| 1 | Oliver | Olivia |
| 2 | Jack | Charlotte |
| 3 | William | Harper |
| 4 | James | Sophie |
| 5 | Benjamin | Emily |
| 6 | Mason | Ella |
| 7 | Hunter | Isla |
| 8 | Charlie | Mia |
| 9 | Liam | Amelia |
| 10 | Jacob | Isabella |
| 11 | Noah | Ruby |
| 12 | Thomas | Grace |
| 13 | Max | Emma |
| 14 | Lucas | Chloe |
| 15 | George | Ava |
| 16 | Samuel | Lucy |
| 17 | Ryan | Zoe |
| 18 | Alexander | Mila |
| 19 | Ethan | Sophia |
| 20 | Cooper | Lily |
| 21 | Carter | Georgia |
| 22 | Jackson | Aria |
| 23 | Elijah | Scarlett |
| 24 | Leo | Eva |
| 25 | Lachlan | Evelyn |
| 26 | Joshua | Willow |
| 27 | Blake | Isabelle |
| 28 | Daniel | Hazel |
| 29 | Henry | Hannah |
| 30 | Isaac | Jessica |
| 31 | Eli | Ivy |
| 32 | Oscar | Evie |
| 33 | Joseph | Abigail |
| 34 | Braxton | Maia |
| 35 | Luca | Madison |
| 36 | Luke | Elizabeth |
| 37 | Finn | Maddison |
| 38 | Riley | Sienna |
| 39 | Jayden | Indie |
| 40 | Beau | Ellie |
| 41 | Harry | Matilda |
| 42 | Harrison | Paige |
| 43 | Levi | Stella |
| 44 | Lincoln | Olive |
| 45 | Connor | Poppy |
| 46 | Archie | Millie |
| 47 | Jaxon | Zara |
| 48 | Tyler | Alice |
| 49 | Toby | Ayla |
| 50 | Dylan | Mackenzie |
| 51 | Caleb | Layla |
| 52 | Nathan | Piper |
| 53 | Flynn | Holly |
| 54 | Ryder | Summer |
| 55 | Logan | Peyton |
| 56 | Hugo | Rose |
| 57 | Matthew | Victoria |
| 58 | Michael | Violet |
| 59 | Arlo | Quinn |
| 60 | Aiden | Eden |
| 61 | Ezra | Riley |
| 62 | Theodore | Anna |
| 63 | Xavier | Sofia |
| 64 | Zachary | Phoebe |
| 65 | Ashton | Thea |
| 66 | Theo | Zoey |
| 67 | Sebastian | Leah |
| 68 | Patrick | Florence |
| 69 | Archer | Charlie |
| 70 | Jake | Lilly |
| 71 | Fletcher | Bella |
| 72 | Angus | Annabelle |
| 73 | Felix | Madeleine |
| 74 | Asher | Frankie |
| 75 | Grayson | Jasmine |
| 76 | Austin | Alexis |
| 77 | Hudson | Addison |
| 78 | John | Nina |
| 79 | Charles | Penelope |
| 80 | Aaron | Harriet |
| 81 | Adam | Aaliyah |
| 82 | Roman | Skyla |
| 83 | David | Jade |
| 84 | Louis | Sadie |
| 85 | Edward | Samantha |
| 86 | Phoenix | Sarah |
| 87 | Nixon | Keira |
| 88 | Kayden | |
Read also: