Caring for your childs sensitive skin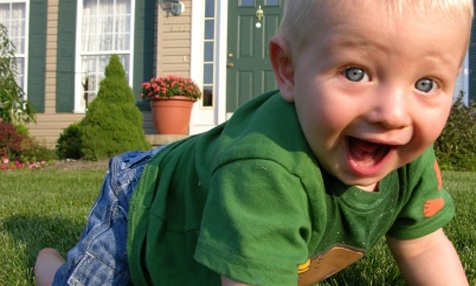 Children's skin is still developing. It does not have developed pigmentation and it has a low skin repairing capacity. Children's skin is thinner and more delicate than adults, so it's more sensitive to irritation. Here are top 5 tips to help care for your child's sensitive skin.
Choose child-friendly products that are free of colourants and perfumes.
Many products such as laundry detergent, fabric softeners and many kinds of soap, as well as conventional personal care products such as shampoos, creams and lotions contain colourants and perfumes that can irritate your child's sensitive skin. Choose products that are sensitive skin friendly. Check the product label to make sure the product is free of colourants, perfumes, and is specially designed for sensitive skin.
Protect your child's skin from the sun.
Sun exposure can burn and irritate your child's delicate skin, and preventing too much sun exposure in the early years is especially important to prevent skin cancer later on in life. It is estimated that one person gets nearly a lifetime's UV exposure (80%) by the time they are 18. As children's skin continues to develop and mature, the damage from early exposure is masked and can only be seen as an adult. Encourage your child to stay out of the sun when its rays are at its strongest, from 10am to 4pm. Cover your child with protective clothing and apply sunscreen to exposed skin – making sure that you always read the label and use only as directed. Choose a sunscreen that protects against both UVA and UVB rays and has a SPF of at least 30. Products such as the NIVEA SUN Kids Pure & Sensitive SPF50+ are free of preservatives, perfumes and colourants and is specially formulated for children with allergy prone or sensitive skin. And don't forget to apply a sunscreen lip balm to your child's lips.
Keep your child's skin well moisturised.
Choose a moisturiser that is made for children and is dermatologically tested. Apply it to your child's body and face right after every bath (within 2 or 3 minutes) to seal in the moisture. Proper moisturising can help protect sensitive skin from irritation. Without moisture, the barrier of the skin becomes weak, allowing irritants such as dirt and bacteria to enter the skin and cause irritation.
Limit your child's exposure to other household irritants.
Aerosol products such as furniture polish or air-freshening sprays, pet hair, dander, and wool or synthetic clothing can irritate your child's skin. Avoid using aerosol products around children, vacuum weekly and choose mainly cotton or cotton blend clothing for your child. Wash new clothing before your child wears them with a sensitive-skin-friendly laundry detergent that is free of dyes and perfumes.
Get help for seriously irritated skin
If your child's skin is very irritated and itchy, or if symptoms persist, consult a healthcare professional.