Sunburn, bluebottles, food poisoning - how to stay healthy this summer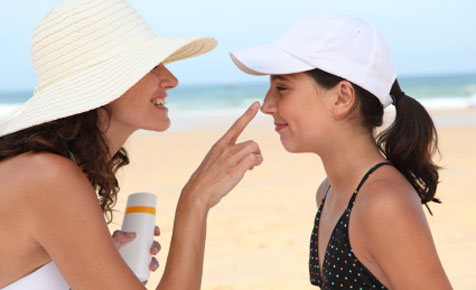 Summer is about celebrating everything we love about our Kiwi culture. The great outdoors is what makes this country so special: fun-filled days at the beach, lazy afternoons by the swimming pool, endless summer barbecues and picnics in the park. Although the sun shines brightly during our favourite season of the year, summer also has a dark side.
There are certain health risks associated with summer that every family will face. But if you're organised and attentive, these risks are easy to avoid. Here's how to stay healthy this summer:
Sunburn
Slip Slop Slap. The well-known skin cancer awareness campaign from the 1980s is still as relevant as ever. The basic message is to protect your skin from sun damage by slipping on a shirt, slopping on sunscreen and slapping on a hat! Since the campaign first launched, the catchphrase has been updated to also include the words SEEK (seek shade wherever possible) and SLIDE (slide on some sunglasses to protect your eyes). Following these simple steps will ensure that sunburn is a thing of the past!
However, if sunburn does occur there are several things you can do to minimise discomfort:
Place the affected person in a cool bath or apply cool compresses to the sunburnt areas.
Increase fluid intake for 48 hours.
Use after-sun moisturising products.
Avoid exposure of the affected areas to the sun until the sunburn has completely healed.
Medical attention should be sought if any of the following symptoms are present:
Sunburn is accompanied by fever or chills.
Person feels faint or has a bad headache.
Blisters or swelling occur at the site.
Signs of dehydration are evident (eg extreme thirst, dry mouth).
Remember, sunburn can occur after just 15 minutes of sun exposure!
Heat-related illness
High temperatures can hamper the body's ability to cool itself down. When it's sweltering outdoors it is best not to do any vigorous exercise and to ensure that every member of the family drinks extra fluids regularly. It is also advisable to wear light coloured, loose-fitting clothing.
Heat exhaustion can occur when the body loses too much fluid. Symptoms of heat exhaustion may include:
Headaches, nausea or vomiting
Weakness and fatigue
If you suspect someone in your family has heat exhaustion, you should:
Cool them down in a cool bath immediately.
Offer both food and drink.
Call your doctor for further advice.
Untreated heat exhaustion can lead to more serious health concerns, such as heat stroke. This life-threatening illness takes hold when the body can no longer regulate its own temperature. Emergency medical help is required if you notice any of the following symptoms:
A body temperature of more than 40.5°C or higher
Seizures
Unresponsiveness or confusion
Loss of consciousness
Bluebottle stings
Kids love the beach, and the water can be so alluring when you've had a hard morning building sand castles. But the sea is home to some little creatures that can spoil all the fun! Bluebottles can be very difficult to spot and can sting unexpectedly by wrapping their tentacles around a part of the body – usually an arm or leg. The pain can feel quite severe at first, and subsides over the course of about an hour. A raised red line will appear on the skin where the sting occurred.
To treat a bluebottle sting:
Firstly, remove the bluebottle from the skin by washing it in sea water or gently lifting it from the skin.
Immerse the affected body part in hot water for about 15 minutes – the water should be as hot as the person can handle.
If hot water is not available an icepack can be used to help reduce pain.
If pain or itching persists or blisters form, then you may need to consult a doctor or pharmacist who will prescribe a cream to put on the sting.
In some rare cases, a person can have a severe allergic reaction to a bluebottle sting, and may require urgent medical attention. Symptoms of a dangerous reaction include:
Severe abdominal pain
Nausea and vomiting
Chest tightness or difficulty breathing
Water safety
Whenever the kids are around water; be it at the beach, swimming pool or river – water safety should be top-of-mind.
Kids need to be educated about the dangers of water, and reminded not to play in or near water without a responsible adult. It's never too early to start swimming lessons – water awareness and water confidence are crucial skills for kids of all ages. It is recommended that all parents and carers undertake a first aid course that is specific to babies and children. These courses include learning how to resuscitate children using CPR, should a water accident occur.
Food poisoning
Many families choose to eat their meals outdoors in summer, which often means food is not adequately refrigerated or stands out in the sun for too long. In hot weather, bacteria can multiply very quickly, which is why food poisoning is more common in the warmer months.
Food poisoning can cause vomiting, diarrhoea, stomach pain and headaches and can make for a very unpleasant couple of days. Food poisoning can be avoided by following these simple food safety tips:
Wash your hands – especially after handling raw meat, chicken or seafood.
Keep it cold – store food in the fridge at less than 5°C and NEVER eat food that has been out of the fridge for more than 4 hours – especially chicken, meat and seafood.
Don't hang onto leftovers – they need to be eaten within four days, otherwise throw them out!
Reheat foods thoroughly – if you are reheating food, make sure you see steam rising from the dish before you eat it.
Don't mix raw and cooked foods – keep all raw meat, chicken and seafood away from cooked food. And use separate utensils for both!
Plan for a party – if you're entertaining a large crowd, don't overfill your fridge as this can cause problems with the cooling.
In the event that food poisoning does occur, plenty of rest and plenty of fluids is always the best medicine. Seek medical attention if symptoms are severe, or last more than two days. And be aware that children with food poisoning are more susceptible to dehydration and should be monitored closely.
More summer and sun articles
This article was written by Jo Harris for Kidspot, New Zealand's best family health resource. Sources include Better Health Channel, Victoria.