How to keep your teen safe online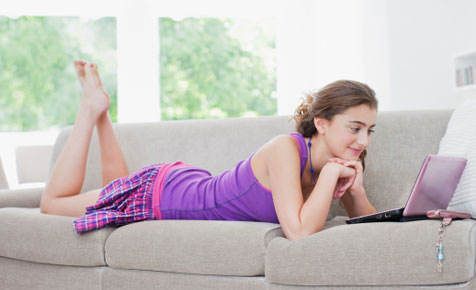 Between cyber-stalking, cyber-gaming, cyber-grooming and cyber-bullying, it's a wonder any parent allows their teen online these days. With children as young as 13 (and under, despite the rules) on Facebook and enjoying other forms of social media (think You Tube, Twitter, Tumblr and even Club Penguin), it's vital that parents know how to help their teenager to behave safely and even a little bit sensibly on the internet. Not easy when the rules, programs, technology and trends change so quickly.
But it is possible. Follow our tips to help keep your teen safe online.
Educate yourself
While it's easy to put technology in the 'too-hard' basket, particularly if it's not a great interest of yours, it's vital that you have an idea of how things work. Learn what it means to be 'tagged' on Facebook - and how to use the privacy settings available to keep your teen's online activities within his or her circle of friends.
Talk to your teenager
While it's hard to imagine the future when you're 14 or 15, it's essential that both you and your teen understand the difficulty of removing content from the internet. Basically, what goes online, stays online somewhere. And media reports today suggest that employers are researching potential employees via their online profiles. So while that photo might seem funny now, it may not always be so hilarious. The same goes for how your teenager deals with material involving his or her friends - it's vital that they treat friends the way in which they'd like to be treated. Also remind them that not everyone is who they claim to be - and that adding people they don't know as 'friends' can open up their worlds to people who may not have their best interests at heart.
Being private in a public world
While venturing into cyberspace is like venturing onto a very large stage, teens can take measures to keep their personal details private. Never using their full name on social networking sites, chat rooms, forums or Instant Messenger. Not revealing their address, phone number, date of birth, email address, bank details or any other personal information unless they are certain of the legitimacy of the request. Suggesting that they read the fine print. And ensure that they never, ever share their passwords with anyone, not even trusted friends.
Supervise
While teens are notoriously private, psychologist and bullying expert Evelyn Field suggests that supervision of their activities should be non-negotiable for parents. "Do your research and set up a contract with your teen," she says. "Tell them - If I buy it, I will check it occasionally. Insist that the computer be kept in a family room, not a bedroom. If the world can look, so can you - and if you don't like what you see, report it."
Make them understand that IRL is what counts, not URL
"There is no more cyber bullying than playground bullying," says Field. "The internet is merely the latest toy, and I think that kids will get wise to it and realise that it's dangerous. But in the meantime, teach your children how to make good friends and have real relationships. Facebook is not about relating, it's about sharing information."
She recommends getting to know your teen's friends and talking about them. Have family meetings and family meals. Teaching them to value friends and be friendly. "These are basic skills that will help a child not to be bullied anywhere, not just in cyberspace," says Field.
Visit Cybersmart for more information for parents and teens about online safety. You can find more hints and tips from Evelyn Field at bullying.com.au
This article was written by Allison Tait for Kidspot, Allison is the co-author of Career Mums: a guide to returning to work post-kids (Penguin).