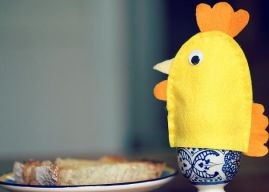 Chick Egg Warmer
Materials
Yellow felt square
Scraps of contrasting colour felt
1 x large black seed bead
Large chenille needle
Yellow thread & scissors
Black felt tipped pen
Cut out
Trace the design (available from the template page) of the chick onto the felt using the black felt tipped pen and cut out. Cut out a beak, a wattle, a comb and tail feathers from the contrast felt.
Assemble
Sew the bead onto the front of the chick for the eye. Place the beak, wattle, comb and tail feathers onto the inside of the back of the chick. Place the front of the chick on top of this and attach the front and back together.
Sew
Sew around the edge of the chick, leaving the base of the chick open.
Find more fun Easter craft projects for kids of all ages