Emotional health for mums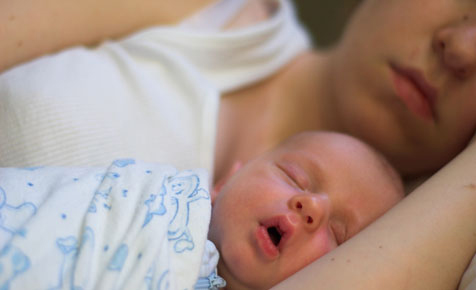 You've heard of four seasons in one day? Welcome to the mood equivalent. A woman's emotional health varies widely after giving birth – often in the same day.

One minute you might feel overwhelmed and anxious, then weepy with happiness, and then, out of nowhere, angry that your partner is at work and you're confined to the house. You might feel lonely, stressed, exhilarated and content – all in the same hour.

These mood swings are to be expected and completely normal. For two out of three women, however, an overwhelming feeling of sadness can envelop them sometime during the third and tenth days after giving birth. It may be that they feel a sense of disconnection with their baby, or fear of what lies ahead.

These feelings are just as normal, but should be watched more closely in case a more serious depression develops.

The Baby Blues:
The Baby Blues is a name given to the feelings of sudden and unexpected sadness, anger or irritability, to despair about breastfeeding difficulties, despondency over your post-birth body, or worry that you'll 'never get it'. A romanticised image of motherhood finds it hard to compete with the reality of endless feeding, little sleep and dirty nappies. Usually these feelings last only a day or two, but there are measures you can take to make the Blues more bearable.
Go outside. Even if it's just to run to the supermarket or take a walk, breathing fresh air and taking a break from the mundane routine of nappies and unattended chores will help clear your head.
Shower and get dressed. Ah, the things you once took for granted. While it eventually does easier, in the first couple of weeks a long, hot shower can be more of a luxury than a reality. But finding a way to clean up, even – gasp! – putting on makeup and fresh clothes that aren't stained with baby spit, will make you feel human once again.
Ask for help. Have your mother, mother-in-law, sister – someone! – come over, if not to help, then to just keep you company. Nothing is more depressing than the solitude of mothering a newborn, and just having someone to talk to and laugh with can do wonders for your mood.
Get some exercise. One sure-fire way to boost your energy and confidence is to pump some endorphins through your system. While it might be close to impossible to steal some gym time now, try looking for a local walking group, mother-and-baby exercise class, or using an exercise DVD. Try our [start link] exercise program for mums with infants to get you started.

Most mums shed the blues in a week or two, but if your sadness persists and becomes debilitating, call your doctor to seek help.

Relevant articles:
Third Day baby blues
Breastfeeding: Taking care of mum
Post-natal depression


This article was written for Kidspot, New Zealand's leading parenting resource.