Sleep deprivation in new mums: dealing with exhaustion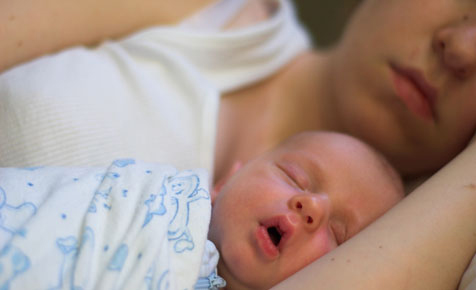 Exhaustion is an inevitable mark of motherhood, no matter how easy or difficult your labour was. Besides the physical toll that pushing a human out of your body takes, there's also the new life you have to take care of (sans owner's manual), mounting responsibilities like dishes and laundry, and the ups and downs of raging hormones – all on maybe three or four hours of choppy sleep. There's not much you can do with your baby's around the clock eating schedule and crying bouts, but there are some ways you can fight the fatigue.

Week one

Accept help - It's time to hang up your Superwoman cape – at least for now. Delegate responsibilities to your partner (if you have one) and try to enlist the help of a family member or close friend for additional hands. The pressure to be on call every hour of the day (after day after day after day) can cause an emotionally stable person to collapse – let alone someone with a rollercoaster of postpartum emotions. People in your life will be more than happy to coo over your little bundle while you catch a quick nap.
Sleep when the baby sleeps - Yes, this is easier said than done – but in hindsight, sleeping is one of the most beneficial things you can do while your baby naps. Let the dishes pile, the dust bunnies gather and the nonessential laundry become mountains. There's no need to impress visitors – everyone will understand when your house looks less than pristine. Plus, they'll only be focused on your newest addition.
Remember to eat and drink - This might sound like a no-brainer, but with everything going on with your body right now, listening to your internal cues might be put on the back burner. Make sure you load up on nutritious foods (think complex carbs and protein) and plenty of water to maintain any shards of energy you might have left. It's also good to remember that food is only a phone call or click away with local restaurants and grocery home delivery services. Again, take advantage of any help you can get.
Week two
Usually by this time, you and your baby are well and truly home. The reality of your new life is beginning to make itself known. Your partner, if you have one, may have some time off work, or perhaps is now waking early and leaving the house. Nights are still shattered by the piercing cry of your newborn every couple of hours, and you're still struggling with a lot of the physical aftermath of the labour.

Re-read the advice above and take particular note of the second point. While it may feel as though any quiet moments while your baby sleeps should be spent cleaning or writing thank you cards or simply reading that magazine you've been dying to get to, the reality is that the best thing you can do right now is simply lie down and close your eyes.


Weeks 3-4
You're probably feeling physically better than you have in the past few weeks, but relentless sleep deprivation will really be starting to hit home. While it may be the last thing you feel like doing, getting out of the house and going for a walk with your baby is surprisingly restorative. Most experts agree that the end of the first month is a safe time to introduce your baby to his surrounding world (from the safety of his pram or sling). It's not the time to launch into a 5km walk, but a gentle wander around the block will lift your spirits – particularly if your baby has a sleep while you're out.

Find more
Mothers' support groups
Attachment parenting
Sleep needs for your baby


This article was written for Kidspot, New Zealand's leading parenting resource.