Date night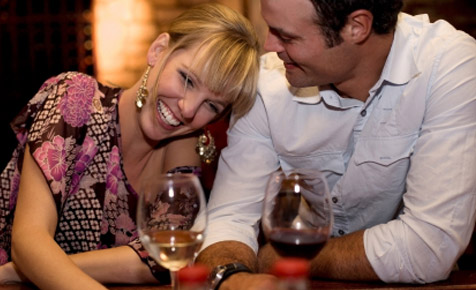 A good excuse to leave the house and get frocked up is for a date night with your partner, if you have one. (Go on a date with a girlfriend if you're parenting solo.) No matter what your age or marital status, it's extremely typical for women to feel stripped of their sexuality and femininity, stuck in a selfless routine of feedings and nappy changing. Your once sex-object breasts are now a vessel for nutrition and a source of comfort; your body has undergone massive changes; your blow dryer hasn't been used in months; and let's not mention the recent trauma to your lady parts. Take some time to feel pretty again - you deserve it.
If you're in a parenting partnership, the sleepless nights and on-the-job learning can definitely put a strain on the relationship, not to mention romance. Daddy is adjusting to this new threesome as well, but try to step back and nurture the partnership that made this little person in the first place. Your children will eventually walk away, but your partner will always be standing next to you. Yet it's easier to neglect a relationship than your needy children or demanding job - until one day, without even realising it, the relationship has deteriorated. Take time for the two of you, which could mean resuming sex again (make sure you're well aware of your contraception options) or simply grabbing a table for two and reconnecting.
The logistics of accomplishing a date night are more involved than just deciding on a time and place nowadays. Here are some tips on achieving a stress-free outing away from baby:
If your goal is to rekindle your relationship, try to schedule a weekly rendezvous, which means lining up a hired sitter or relative ahead of time. The regularity will eliminate any last-minute babysitter scrambling and allow you to prepare ahead of time.

Make sure the sitter has a list of phone numbers for you, nearby family members and medical services. Also leave a detailed list of the baby's schedule, feeding directions, sleeping habits, product locations (like where the nappies and wipes are) and general likes and dislikes.

Keep your outings short in the beginning, no more than a couple of hours - especially if breastfeeding.

If breastfeeding:
Try to feed the baby before you leave the house
Bring along a breast pump in case of an engorgement emergency
Pack plenty of breast pads to avoid any milk spillage, which is likely to happen if you hear a baby crying or even just think about your newborn back home
Make sure the sitter has at least two bottles of expressed milk or formula in case the baby gets hungry early. Also, make sure he or she tosses any unfinished breast milk to prevent bacteria from festering.
Related stories
Baby's sleep advice
Expressing breast milk
Choosing a babysitter
This article was written by Linda Drummond for Kidspot, New Zealand's leading pregnancy and parenting resource.