5 reasons to host an Easter brunch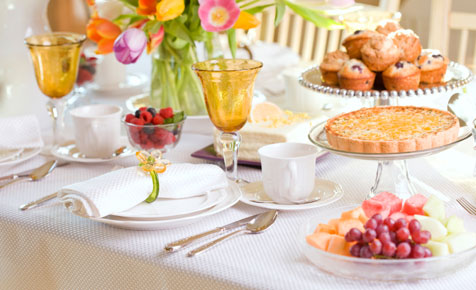 A brunch can be as laid-back or formal as you like and Easter is the perfect time to entertain family and friends. Hosting a brunch doesn't have to be complicated. For those that find it hard to harness the hostess within, Kidspot has five easy reasons to bother with an Easter brunch.

Brunch is great for a Sunday - especially Easter Sunday
Without a doubt, the most popular day to serve brunch is Sunday. The best time is anywhere between typical breakfast and lunch times. You don't want to start too early because you want time to cook! Starting at around 10am to 11am gives you time to prepare your home, the food and the brunch plan. When preparing a formal brunch, a white tablecloth and fine china make a great impression. You may also want to place flowers on the table. On the other hand, a casual brunch should feel casual. Create a family-like setting by serving a buffet. The most important thing to remember is to make sure your guests will feel comfortable.
Food is simple - preparation is quick
Brunch recipes are usually easy and quick to prepare. The beauty of a brunch is that kids are usually at their best behaved in the early hours of the morning, and they can join in the fun of entertaining and hosting family and friends. Try these brunch recipes:
Decorating options are fun for brunch
Use pastel tablecloths or lengths of pastel fabric along a table. Scatter mini Easter eggs in small groupings and then add some tealights in glass votives, and possibly a couple of fresh flowers. Hey, go wild and make these Easter bunny footprints to lead your guests from the driveway to the table. You could create your own Easter tree and use it as a table centrepiece.
Brunch is the perfect time for Easter egg hunts
Children love nothing more than an Easter egg hunt, and Easter Sunday is the only day to stage such an event. There's nothing more fun than celebrating with family and friends at an Easter brunch.
Don't forget dessert
Part of the reason brunch is so fun is because you get to break the rules a little. You're eating eggs for lunch and steak for breakfast. The best way to top that getting-away-with-something feeling is with a fantastic dessert. Try these recipes for something exciting to serve at brunch: