Quick tricks to dye eggs for Easter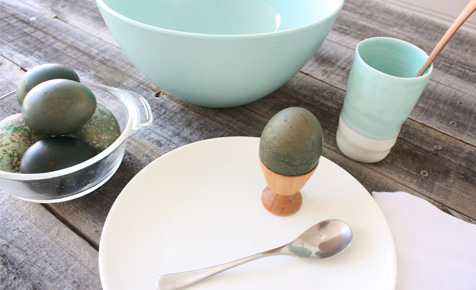 The cheat's guide to super-quick dyed eggs for Easter
Most mums would love the patience to dye easter eggs with boiled onion skins - but not all of us have the time. Kidspot has instructions on how to dye eggs with natural ingredients but these instructions show the quick way to get coloured eggs for Easter.
You'll need:
How to dye eggs for Easter the quick way
1. After hard-boiling your eggs, remove water from the saucepan.
2. Squirt food colouring directly onto warm eggs and swirl around with a spoon or fork into the food colouring.
3. For deeper colour, squirt food colouring over eggs again after it's settled for a minute or two or add a little water for a more washed-out look.
4. The dye will settle differently on different eggs - the rougher eggs will be more patchwork; the smoother ones will be more solid and the speckled ones will have a slight marble effect.
5. Gently rinse off excess food colouring and place in the table centre or in egg cups - eggs can be eaten if you're hungry!
Thanks to our sister company Kidspot Australia for creating the instructional video.
Browse Kidspot Easter crafts and feast ideas: