Her physical needs & support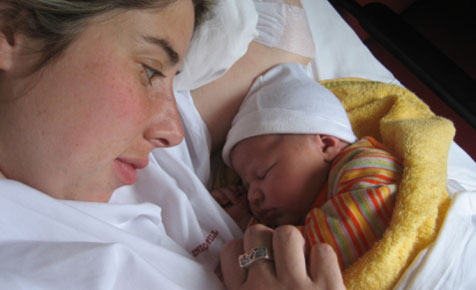 In the early weeks, the woman's level of physical support will vary for each individual woman. It will often depend on how the labour and birth unfolded, if a Caesarean was necessary, if she has experienced any complications after the birth, how the feeding is going and how demanding the baby is. Most women will feel weak and tired and may not regain their full energy until their baby moves into a more predictable feeding and sleeping pattern (usually about 6 to 8 weeks after the birth).
If she spends some time in the hospital, she may get some rest, but this may not always be the case. Busy hospital staff usually come and go, visitors drop in frequently or she may be sharing a room with other women and babies. Many women are not able to totally relax and sleep well, until they return home to their own environment (and bed) and they have their own support network around them. Hospital staff can give practical help and advice, but they do not provide the love and nurturing that family and friends can provide.
However, many women will worry about having to take on the domestic role again, and can feel like this is all too much, on top of having a new baby. While you may not expect her to do anything, she may put pressure on herself to be 'superwoman' and begin doing the 'routine duties' once she returns home. If you notice this happening, you will need to remind her to slow down (or stop!) Even if she feels she is 'OK', she can underestimate what her body has been through.
She really does need to take things slowly in the early weeks after the birth and women can deplete their reserves quickly. Some women will even notice that their health is being affected (such as heavier bleeding or
mastitis
), if she overdoes it too quickly.
Be aware that the woman's back is vulnerable to being injured after the birth. Therefore you will need to lift and carry full baby baths, nappy buckets, baby capsules (or even toddlers), as she should not be lifting anything heavier than her baby. For some women, even walking can be an effort, particularly if they are feeling sore and swollen from stitches to the vagina, or after a Caesarean. She may still need physical help undressing and showering. If this is the case, stay close by, gently help towel her dry, sit her down to put her clothes on (be aware that sometimes lifting a leg too high to put underpants on is enough to cause pain).
Be conscious of the fact that entertaining visitors can be exhausting and draining for the woman, especially in the early weeks. Visiting hours are usually restricted when in the hospital, but once home, you may find visitors (or you) have an 'open house' mind-set. Your family and friends might be well meaning, but it may become necessary to restrict (or stop them) if they are interfering with your partner's rest, and windows of opportunity to sleep (usually when the baby does). It is exciting to show off your new little one, but your partner needs time to recover.
Some new parents have found introducing a 'phone before you visit' policy for family and friends to be very helpful. Or you may choose to leave a message on your answering machine saying "Hi, we are fine and doing well - but are sleeping, and will phone you when we can". This is a simple message that can let family and friends know you are OK, and leaves you in control of contacting them to organise visits.
If you do have visitors, and your partner appears to be tiring, then she may need to leave you to it, to entertain, while she goes into the bedroom to sleep. This may also be the case if she needs some space and privacy to feed, if she is finding her breastfeeding difficult.
Family and friends may feel unsure about how they can support you, the mother and baby. You may need to discuss this before the birth, to see how you both feel about visitors and when you wish to start seeing people and how many. It may also be a chance to plan setting up a 'roster system', or 'job allocation' for people to cook meals or help around the house with cleaning or caring for siblings.
In many instances, you may find that originality needs to win the battle against convention, if you want to maximise your chances of setting off on the parenting journey with some degree of sanity!
Find other support articles: