What to bring to the hospital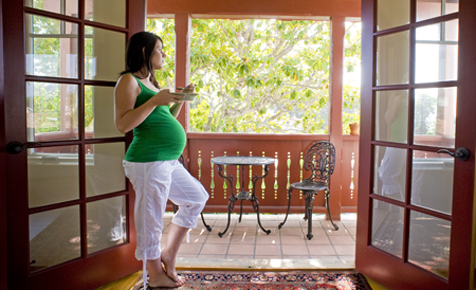 Labour bag for the hospital
Personal items for woman and partner:
2 comfortable T-shirts or pyjamas, shirts or sarong to labour in.
Dressing gown or housecoat.
Slippers or flat comfy shoes.
Socks (2 pairs, feet can get cold in labour).
Underpants (at least 1/2 dozen) take your old ones not the lovely lacy ones.
Sanitary pads (2 large maternity packets).
Toiletries-for both woman and partner (brushing your teeth can make you feel a bit better if the labour is long).
A change of clothes and comfortable shoes for the partner.
A box of tissues, some super soft luxurious toilet paper!
Lip balm for dry lips.
Clips, headbands or hair ties / scrunchies to keep hair off your face during labour.
Swimmers for partners / support person so you can support her in the shower or bath.
You may like to bring some of your own personal belongings to create your own atmosphere like pillows, duvet, etc.
Photo of your other child (ren), the pet or a relative, or your favourite holiday destination.
Comfortable clothes or shoes to wear home or in the postnatal ward.
Breast pads for when your milk comes in 2-4 days after the birth.
A set of clothes for your baby to go home in.
Equipment and formula for bottle-feeding if you intend to do this and the hospital asks you to supply this.
Drinks and snacks
Mineral water, juice non-acidic juices such as apple or pear, lucozade, PowerAde, Gatorade. Tea or coffee and plunger for partner / support if you like real coffee. Your own preferred blend of herbal teas.
Ice blocks.
Bendable straws.
Lollies to bring up energy levels barley sugars or lolly pops on a stick (easier to remove during a contraction).
Chocolate or muesli bars.
Fruit (fresh and dried).
Food that is easily digestible soups, yoghurt and high-energy snacks.
Food for support people (or Pizza delivery number).
Massage and support tools
Massage oil
Massage implements
Cooling gel (for massage)
Face washer or flannel
Music, tapes or CD's, check to see if the birth centre supplies players
Evian spray or something similar to spray your face
Heat/cold packs
Heat packs (you will need to check with the birth centre for their preferences and what they do and do not supply)
Other helpful Items
Camera and film
Video recorder and tripod
Cellphone, charger and recharge card if you're on prepay
Birthday cake
Baby capsule installed in the car
Natural therapies
Bach, flowers homoeopathics, herbal tinctures
Aromatherapy oils -remember to check if this is OK
A note of any acupressure points for labour
Visualisation tapes
Anything else you think you may need
Find more articles: