Preparing for breastfeeding success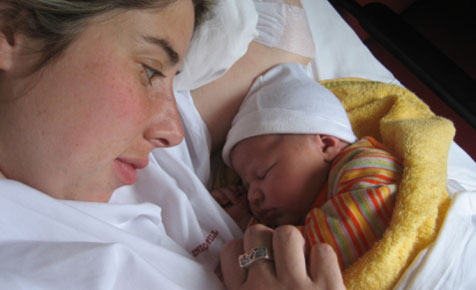 Research shows that preparing for breastfeeding when you're pregnant can have a huge impact on your success once baby is born. Here's our 8-point plan to prepare you and your bub for breastfeeding success.
Write a breastfeeding plan
This plan should be as standard as a birth plan, says breastfeeding spokesperson, Carey Wood.

"Sit down with your partner and have a good think about how you both want to approach breastfeeding," says Wood, adding that the plan can include breastfeeding straight after birth, goals on how long you feed as well as how you plan to approach breastfeeding if you return to work.
Book a course
In most antenatal courses, you'll spend weeks learning about giving birth, but only a few hours about breastfeeding. In your third trimester, attend a stand-alone breastfeeding course and take one or two key support people with you, such as your partner and/or your mum.

These courses not only give you some helpful advice, but also help normalise breastfeeding for parents-to-be who may have had little contact with it.
Buy one or two books
You don't need a library of breastfeeding books with, possibly, conflicting information. Ask other mums what they recommend or just spend a bit of time in the pregnancy and parenting section of your local bookshop. Choose books that focus on techniques, positions and troubleshooting.
Recruit peers and family
Now's the time to get your family and friends on board with supporting your decision to breastfeed your baby. With those close to you, share your breastfeeding plan, explaining your goals and how they can help you achieve them. If you come across any opposition or criticism, throw them a book or encourage them to hit the net for the page-upon-page of information and research on why breastfeeding is so beneficial.

Remember, this is your decision, and your close family and friends should support your wishes.
Find an expert
The last months of pregnancy are the perfect time to recruit a breastfeeding expert, because the most likely time you'll be calling on their advice is in those first few weeks and months as you establish your feeding. Here is where to find a counsellor or breastfeeding consultant:

The New Zealand Breastfeeding Authority 03 3572072
Chat to real-life breastfeeding mums
It's likely that in your family and friends you will have some breastfeeding old hands who've been there and done that all quite successfully. These mums can provide invaluable grass-root support for you, offering up real-life advice in a language you can understand. And they'll love being able to help a newbie breastfeeder.
Have realistic expectations
Breastfeeding may be natural but that doesn't mean it's always easy. Most women will face and cross several hurdles while feeding. That's when you call on your experts, your real-life mums and the support of your family and peers.
Join a forum
Mums and mums-to-be are one of the most active forum users around, sharing their tips, advice and issues with other women in similar situations. Join forums for support, advice and the benefits of being part of a community.