Look your best at the beach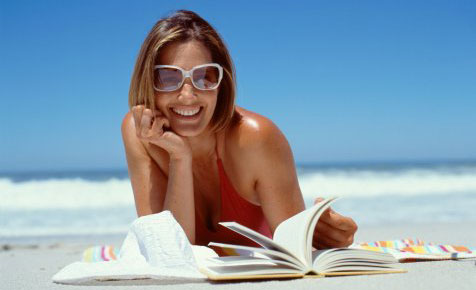 The beach... does the thought make you drift off in relaxed anticipation of a family holiday - or prompt self conscious anxiety attacks about being seen in a bikini - even by the kids?

The prospect of baring your bikini body at the beach can be far from appealing when you're not 100% happy with your body image. But some careful shopping and and these beauty tips for your body can ensure you look sensational in the sun on your beach holiday - whatever your size.
Shopping for swimsuits
Thankfully, most retailers now recognise that few ladies look good on the beach or pool in three strategically placed triangles held together with string. And as a result, there's a variety of different styles of swimwear on offer for your holiday, it's just a matter of finding the right one to suit your body shape.
Dress up your good points
Emphasise your favourite body features in swimwear rather than worrying about the parts you want to cover up. For example, if you're self-conscious about your body size in bathers - stick to plain, bold colours rather than stripy numbers but choose a shade that brings out your eyes or complements your skin.
Flattering necklines
Look for a neckline that suits your body type. For example, swimsuits with a V-neck lengthen the torso and draw the eye upward to your face. A U-neck softens broad shoulders. If you have shoulders that you'd like to highlight, choose a halter-neck for the beach or pool.
To bikini or not to bikini
If you aren't happy about wearing a bikini on holiday, don't - especially if you're lamenting your pre-pregnancy belly. It's more important to feel comfortable in your cozzie. A simple one-piece swimsuit will still look both glamorous and sophisticated, especially one that shows off your assets on the beach.
QUICK TIPS
For a big bust, opt for a swimming costume with a built in bra for extra support, perhaps with a plunging neckline for a daring d'colletage. If you are pear-shaped, try a high-legged style to make your legs look longer and balance your body weight. Don't be tempted to cover up with shorts-style costumes as these just draw attention to your hips and thighs.
For a full figure, check out costumes with tummy support. A suit with gathered fabric across the waistline can create the illusion of an hourglass figure. The gathers can also hide bulges.
If you'd love to wear a two-piece but wouldn't feel comfortable in a bikini, try a tankini a tank top that brushes the hips and fitted bottoms.
While looking sexy in the sun doesn't have to be about getting your kit off, covering up doesn't have to mean hiding in a baggy T-shirt.
Sarongs and kaftans
Tie your outfit together with a beautiful sarong. Choose a colour or pattern that either matches or complements your swimsuit. Invest in a loose cotton kaftan and not only will you protect your skin from the sun, you'll look elegant too. Don't forget to slather yourself and the kids in sunsreen for further sun protection.
A little beach prep
Finally, there are a few things you can do to boost your confidence and ensure you step on to the beach looking a million dollars:
Self-tanning treatments mean you can banish pasty legs with a careful application, or splurge on a spray-tan at your nearest beauty salon.
De-fuzz. There's nothing un-sexier than sideburns on inner thighs and even Julia Roberts didn't manage to carry off hairy armpits. Buy a new razor or book into a beauty salon for a wax.
Practise good posture. Nobody looks their best when they are doing a good impression of the Hunchback of Notre Dame. Stand tall, push your shoulders back, and hold your head high.
Have your toes in tip-top condition with a good pedicure. They'll be on show in jandals so choose a polish to match your outfits.
Relax and have fun. That's what the beach is all about!

This article was written by Weight Watchers for Kidspot.