Kids recipes - snacks and goodies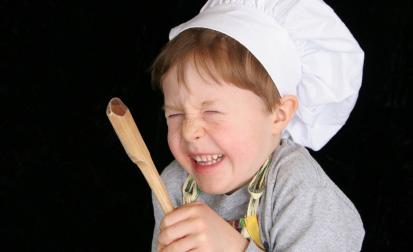 Encouraging your child in the kitchen has many benefits. Aside from the obvious skill of being able to prepare food, your child also develops gross and fine motor skills, and learns measuring, how to follow instructions, and maths skills such as time and temperature.

Such a great way to spend time together and have fun!

Start with snacks and goodies that are simple to prepare and suitable for morning and afternoon tea - that way you not only have fun, you also feed hungry tummies! Here are some fantastic recipe suggestions:

Once your child can read and is confident in the kitchen, he may start making menu suggestions (don't be surprised if most of them are sweet!) or even wanting to cook dinner for the family - many children start by wanting to replicate their favourite dinner. If he pulls out a cookbook and settles on a dish that requires 15 ingredients and 3 hours prep time, try not to dampen his enthusiasm by rejecting his offer to cook for you, just try instead to steer him towards something more doable, pointing out time/ ingredient restraints rather than his lack of experience making soufflés! Whatever magic he whips up in the kitchen, make sure that he sticks around long enough afterwards to help clean up.

Snacks and other goodies

Banana smoothie
Basic Cupcakes - you can add to these to make different flavours
Cake in a mug - 3 minutes in the microwave
Cereal Balls - cook in the fridge
Cheese Rolls - only 3 ingredients
Cheese Sticks - with a twist
Croque Monsieur - or madame
Easy Five Cup Loaf - simple and filling, Replace sultanas for choc chips if you are feeling like a special treat
Homemade LCM Bars - any leftovers can be used for school lunches
Lemonade Scones - again only 3 ingredients including a can of lemonade
Pikelets - an old favourite
Muffin Pizza - choose your favourite toppings
Omelette - healthy and fast
Nachos - perfect for filling up tummies
Weetbix Slice - sure to become a family favourite



More snack ideas
Best cupcake ideas
Cakes and Baking
More kids cooking recipes
Lunch and dinner - recipes to cook together