Finger puppets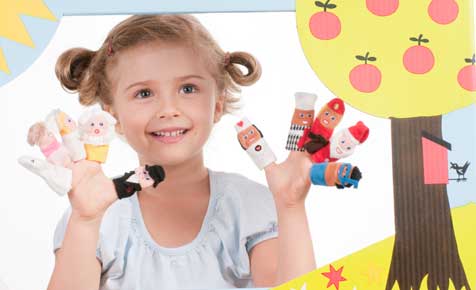 Finger puppets transform children into storytellers, as well as offer a fun craft project.
Making their own finger puppets allows kids to:
Develop and choose colours
Gain manual dexterity by using scissors
Think up character and storytelling ideas
Playing with the finger puppets and creating their own puppet show takes the learning even further by:
Helping children build social skills as they learn to listen to each other and take turns
Kids learn cooperation and acceptance of others ideas and wishes
Emotions can be released in a healthy way as the child uses the finger puppet to express their feelings and concerns and children can practice saying what they feel through the finger puppet
Language development is accelerated as the kids experiment with different voices and characters
Finger puppet play helps children distinguish between fantasy and reality. They pick up a lifeless inanimate finger puppet and all of a sudden it becomes a living talking being.
Make your own finger puppets
This article was written for Kidspot's New Zealand.