Cute Easter cutlery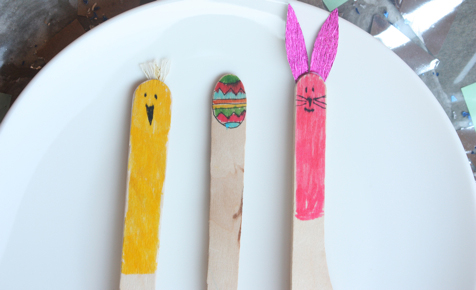 Create a festive Easter lunch setting by having the kids create their own Easter-themed cutlery. Here's how:
What you need:
Pink paper or cardboard
Some string
Double-sided tape
A set of wooden cutlery
Textas
A permanent black texta
Activity:
Step 1. Make sure you have all the tools and supplies needed to make Easter cutlery.
Step 2. Cut a small piece of pink paper or cardboard into small ear shapes - this will be the bunny character of the set.
Step 3. Cut a small length of string, fold it in half so that the ends meet and gently ruffle up the ends a little. Cut a tiny piece of double-sided tape and stick it on the back of the cutlery at the top. Stick the string in place with the loose ends sticking up - this will form the hair of the chicken character.
Step 4. Attach a small piece of double-sided tape to the back of the bunny. Stick the ears into place on the bunny so that the coloured side is facing you.
Step 5. Have your child colour in the front and top of the cutlery with textas.
Step 6. Have them draw on a chicken and bunny face and also have them decorate the third piece of cutlery by colouring in the lines on a freehand drawn Easter egg.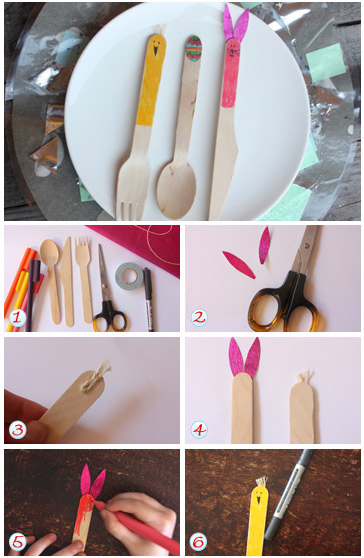 This craft was created by Belinda Graham, who blogs at The Happy Home Blog.