Bunny masks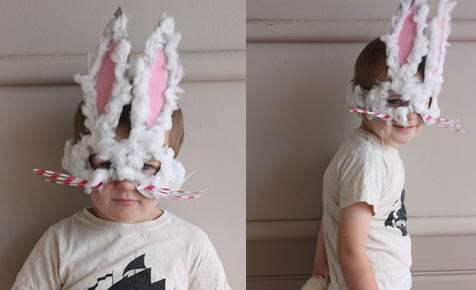 How to make an Easter bunny mask
This is a cute project to keep them busy or an easy alternative to creating a fiddly hat for the Easter hat parade. The bunny mask is so simple kids could do it on their own with a little help from you – and it's fun for kids to wear. Don't forget to make the woolly pom-pom tail to go with it.
You'll need:
Cardboard
Pencil
Cotton wool – torn up
Glue
Paintbrush
Sticky-backed pink felt (available from craft shops)
Double-sided tape
Scalpel
A straw
Scissors
Single hole punch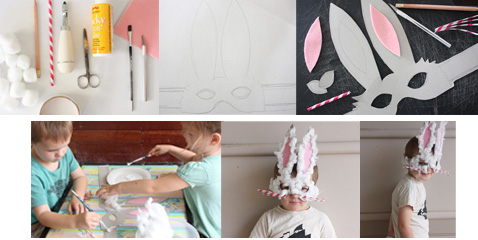 Tools; outline template to create mask; mask in progress; finished work.
How to put the bunny mask together:
1. Draw onto cardboard a bunny mask with extended sides and a bump for the nose.
2. Cut out, remove the eyes and stick on the pink felt in the centre of the ears. Cut the straw into half, then slice in half lengthways and cut four slits to near the end.
3. Have the children paint on the glue and cover the mask with cotton wool. Glue the "whiskers" into place on either side of the nose and use double-sided tape to fasten the two ends together around the child's face. Alternatively for a shorter mask, pierce holes on either side with the single hole punch and tie thin elastic to each hole to stretch over the child's head.