Sparkly Easter egg cups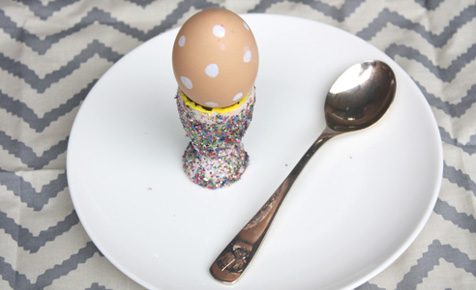 Turn a regular egg cup into a special sparkly Easter one with this craft. Simply decorate a wooden egg cup in glitter to create a special Easter Sunday morning breakfast table.
What you need:
A clothes peg
Egg cup
Glue (to make your own mix equal parts flour and water until smooth)
Plastic cups to hold paint/paste
Glitter
Spoon
Paper plate
Paint
Paint brush
Permanent white pen
Boiled egg
Activity:
Step 1. Collect all the tools and supplies needed to make your sparkly Easter egg cups.
Step 2. Attach the peg to the cup and use this to hold the cup while you paint glue all over the outside of the egg cup.
Step 3. Pour some glitter onto the spoon and shake it liberally over the egg cup. Be sure to coat the entire thing. Leave upside down on a paper plate to dry.
Step 4. Once dry, shake any excess glitter off.
Step 5. Paint the inside of the egg cup in a colour of your child's choice. Decorate a boiled egg with a permanent white pen before chopping off the top and serve in in the sparkly egg cup!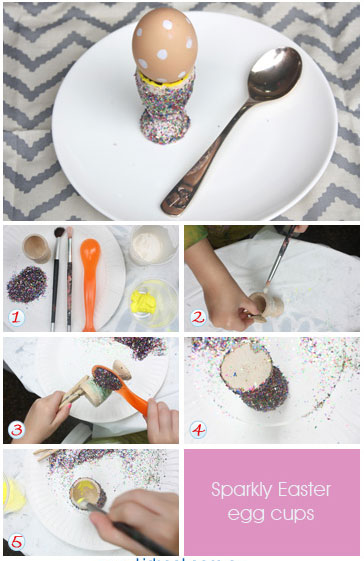 This craft was created by Belinda Graham, who blogs at The Happy Home Blog.