Routine for a three to six-month old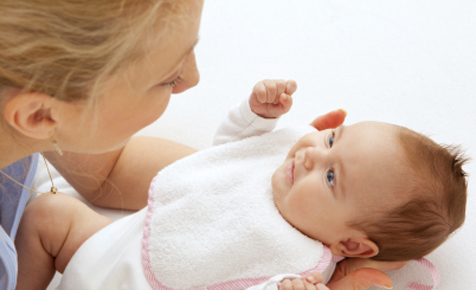 By three months, most babies will still be waking once or twice during the night for feeds, but many – hurrah! – will sleep four to five hours without waking. (When a baby sleeps about five hours straight this is considered 'sleeping through the night'.) During the daytime, some babies have two or three longish snoozes during the day, while others are happy with a series of short naps. At six months, most babies have learned to sleep more at night than during the day and it's also time for a baby's first taste of solids, which will help improve your infant's sleep.
A day in the life…
Here's a sample daytime routine for six month-olds from Kidwrangling by Kaz Cooke:
Baby wakes up. Feed: breakfast (breast milk and a taste of solids such as rice cereal or a bit of fruit). Play. Possible sleep.
Feed: morning tea (breast milk and a taste of solids). Play. Sleep.
Feed: lunch (breast milk and a taste of solids). Play. Sleep.
Feed: afternoon tea (breast milk and a taste of solids). Play. Possible catnap if there are tired signs. Feed: dinner (a taste of solids and a drink of water). Bath. Drink (breast milk). Night-time ritual. Sleep: about 7pm. Possible feed: supper (breast milk) or start phasing it out. Sleep.
Wonder week alert!
Wow! At about 6 months of age a baby starts to realise that some people are around most of the time (ie. Mum and dad!), while some people are strangers.
A bed-time routine
Teach your baby to go to sleep by using the same settling tips each time, day or night:
Avoid too much excitement in the hour or so before bed.
Provide a night-light if your baby seems frightened of the dark.
Do not be too ready to go to your baby if you hear whimpering in the night. He or she may be making noises while asleep.
If your baby cries at night, settle him or her as quickly and quietly as possible.
Important!
It's worth bearing in mind that routines are easy for some babies to pick up, and not so easy for others, so these are only suggestions and guidelines.
This article was written by Joanna Bounds for Kidspot - New Zealand's parenting resource for babies, toddlers and pre-schoolers. Sources include The Royal Australian College of General Practitioners, Kidwrangling by Kaz Cooke (Penguin) and SA Government's Parenting and Child Health.
Kidspot is dedicated to the promotion of breastfeeding as the best possible start in life for babies as well as being good for the health and wellbeing of mothers.
The World Health Organization recommends that infants start breastfeeding within one hour of life, are exclusively breastfed for six months, with timely introduction of adequate, safe and properly fed complementary foods while continuing breastfeeding for up to two years of age or beyond. Source:http://www.who.int/nutrition/topics/infantfeeding/en/
Breastfeeding provides babies with the best nutrition and is preferred whenever possible. Good maternal nutrition is ideal for breastfeeding. You should be aware that reversing a decision not to breastfeed may prove difficult. Partially introducing formula could negatively affect your milk supply. Social and financial implications should be considered when selecting a method of feeding.
Professional advice should be followed before using an infant formula. Proper use of an infant formula is important to the health of the infant and should only be used as directed.
If you're worried about breastfeeding, your Well Child nurse or PlunketLine can help.