Child restraint regulations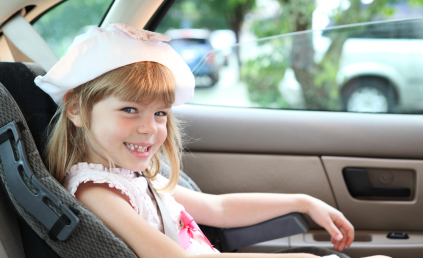 What do child restraint regulations mean for you?
On 1st November 2013 new regulations came into force in New Zealand regarding the use of child restraints for children travelling in a vehicle.
Up until their seventh birthday, all children will be required to be correctly secured in an approved child restraint that is appropriate for the age and size of the child.
If you do not have access to a suitable child restraint then the child can not travel in the car.
A vehicle's safety belt on its own is not an approved child restraint.
In addition, children aged seven should be secured in an approved child restraint, if one is available. Otherwise they must use a safety belt. If there are no child restraints or safety belts available, they must travel in the back seat.
Children aged eight to fourteen years must use a safety belt. If one is not available, they must travel in the back seat.
Children of any age travelling in taxis, shuttles or buses are not required to use a child restraint, unless one is available in which case the private vehicle age regulations apply.
For more information visit the New Zealand Transport Agency's website
It is the driver's responsibility to ensure that all passengers comply with current regulations.
Why did the regulations change?
With the prospect of keeping children in a car seat for an additional two years, parents may be wondering why a change in the legislation is necessary.
New Zealand currently has one of the highest child road fatality rates in the developed world with around five children killed or injured every week on our roads. A survey carried out by the Ministry of Transport in 2011 observed children in more than 6,300 cars to determine how children were restrained. Twenty three percent of the children aged 5 to 9 were restrained in various types of child car seats or harnesses. Seventy two percent were restrained by adult safety belts. The remaining five percent were unrestrained. (Reference: http://www.transport.govt.nz/research/roadsafetysurveys/pages/childrestraintstatistics2011.aspx)
New legislation to protect our children
Seatbelts in cars are designed for adult sized bodies, not children. When worn by a person under approximately 148cms tall, the lap portion of the seatbelt tends to ride up over the abdomen and the shoulder portion can cut across the child's face and neck. In an accident, this can cause life-threatening or long-term injuries to a child's body. The use of an approved child restraint that is suitable for your child's age/weight can easily correct the poor fit of an adult seatbelt.
New legislation
requiring that
children up to the age of seven must be seated in an appropriate child restraint whilst travelling in a vehicle
has been implemented in order to reduce the amount of children who are injured or killed in car accidents due to ill-fitting seatbelts.
Child restraints
Child restraints (or child car seats) can be purchased from a range of department stores, online or from specialist retailers. It may also be possible to rent or buy a car seat from your local
Plunket
. Their car seat service staff are qualified to provide parents with free and independent advice about the installation and use of child restraints. You should always refer to the manufacturer's instructions to find a child restraint that best fits your child.
For more information on the type of child restraint available and the suggested age/weight range, see
NZTA Child Restraints Factsheet
. As a general rule, if your child's head is higher than the back of the child restraint when seated, it's time to move them into the next type of child restraint.
REMEMBER:
Plunket recommends that a baby stays in a rear-facing restraint until they are two years old.

Never put a child, in a rear-facing child restraint, in the front seat of a car that has a passenger airbag. The child could be seriously injured or killed if the airbag is activated.

Children should be seated in the rear of a vehicle if possible, as it is safer, regardless of the child's age, size or type of child restraint used.

Always follow the manufacturer's instructions when fitting a child restraint to your vehicle to ensure it will operate correctly in the event of an accident.

Ensure that a second-hand child restraint has not been in a crash, is in good condition, comes with a manual and has not passed it's manufacturer's expiry date.
A child restraint must meet an approved standard, with the design and construction tested in a laboratory under crash conditions. Commonly used child restraints certified for use in New Zealand will show a tick mark (a Joint New Zealand/Australian Standard AS/NZ 1754), or an 'E' mark (European Standard ECE 44), or a restraint that complies with the United States Standard (FMVSS 213) must, in addition to any other markings, display the New Zealand Standard 'S' mark, to show they have been certified for use in New Zealand.
A practical solution from Diverse NZ
The BubbleBum is a fantastic Booster Seat that provides flexibility and convenience so your kids can travel safely at all times. In a matter of seconds, the compact BubbleBum inflates to become a belt-positioning booster with positioning clips to hold the seatbelt in place.
Now it doesn't matter whose car your child rides in, a booster seat will always be on hand, keeping kids safe in every car journey. The seats are light and come in a compact carry bag - perfect for school bags, carry-on luggage or keep it in the car for car-pooling and school runs.
The BubbleBum is designed to be small, light, practical and easy to use, even when there are three across the back seat. And kids love using them!