Bonding with your bump: Ways to communicate with your baby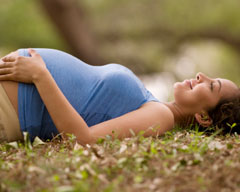 Waiting 9 months to meet your unborn baby can feel like an eternity! But you don't have to wait until birth to bond with your newborn. Finding ways to bond with your bump is not only a great way to pass the time, but also an important part of preparing for yourself for parenthood. By actively communicating and stimulating your baby in the womb, you are also preparing her for what awaits in the real world.
Clinical psychologist, Dr. Beatriz Manrique, studied the effect of pre and post-natal stimulation on babies. According to her research, babies who were stimulated with touch and sound in the womb appeared to be more alert at birth, had better head control and were able to turn their heads in the direction of their parent's voices. Manrique's research suggests that communicating with your unborn baby is not just about forming a bond – but is also about affecting her social and emotional states at birth.
Communicating with your unborn baby is something you can easily do through the course of your normal day, using any of the following stimulating techniques:
Talk
Since your baby can recognise the voices of her parents when she is born, saying good morning and good night to your baby each day is a good habit to get into. Sharing your feelings and thoughts with your unborn child can also help to humanise your growing belly.
Sing or play music
Your baby begins to hear by the 18th week of pregnancy, so singing lullabies to your baby is a tradition you can start before she is born and continue once you have given birth. Many expectant parents play classical music to their unborn baby as it can have a very calming effect.
Massage
An effective way to introduce your baby to the outside world is by giving your bump a regular, gentle massage. You baby may respond to your touch by kicking the place you've just massaged or by changing positions.
Visualise, meditate or try yoga
It's worth taking a few minutes every day to relax and just visualise yourself holding your new baby. Imagine what she might look like and what you might say to her. Taking pre-natal yoga classes is a great way to help you relax. Most pre-natal yoga will include some kind of visualisation or meditation exercise within the class.
Have an ultrasound
Being able to watch your baby move around on the ultrasound screen is a very practical way of bonding with your bump. It makes everything seem more real! This is an especially good way for fathers and grandparents to form an attachment to your baby as well. Take home the pictures from the ultrasound and put them somewhere you will see them every day – on the fridge or next to the telephone!
It's never too early or too late to start communicating with your baby. Parenting is a journey that really begins the moment you find out you are pregnant.
This article was written by Joanna Harris for Kidspot, New Zealand's best pregnancy resouce.