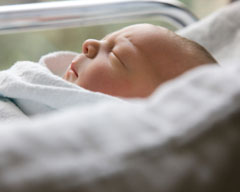 Choosing the best place to give birth
When it comes to deciding where to have your baby – labour ward, private hospital, birth centre or in your own home – the pros and cons of each aren't always explained by your GP on confirmation of your pregnancy.
"Women often just get referred to whomever the midwife is affiliated with," says childbirth expert Lael Stone from About Birth. "Women often get streamlined, but it's never too late to change – it's important to give birth where you feel the safest."
Here's what you should consider when deciding where you want to have your baby:
Take your time
You'll most likely be asked pretty early on, at your first or second midwife appointment, where you want to have your baby - so don't be afraid to ask for more time if you want to research your options. "Do your research and visit all of the places," advises Lael, adding that you can always book into more than one place if you're not completely sure which is right for you.
Labour ward vs birth centre/small maternity ward
Although many towns have both a labour ward and a birth centre, many women eschew the birth centre for fear of needing an epidural. If the birth centre and hospital are situated near each other, then transferring to the hospital should be no issue, Lael says. "Birth centres are geared towards natural births, with access to water, whereas labour wards are more set up for medical pain relief, such as epidurals - although you can always transfer over the labour ward; there's a very high transfer rate," she explains.
Going private
Many women feel safer having their own private obstetrician managing their birth, but it's also where you're more likely to have a C-section and other interventions, says Lael. "With obstetric care, birth is considered abnormal until proven otherwise – they'll push for more interventions, as that's what they're specialised in. If you want to give birth naturally, it's not the best option. However, if you wanted a C-section, that's what you'd get." There are also other perks to going private, she says. "With quite a few of the big private hospitals, you get transferred to a five-star hotel after birth. Some women want that at the end."
Home birth
Although there's a low level of home birth in New Zealand, Lael says it proves to be a relaxing environment for many women. "Very often things don't go wrong because women feel relaxed and the midwife gets to know them throughout their pregnancy," she says, adding that safety is paramount. "Midwives all carry all of the equipment that a small hospital has". However, there is the risk that if something goes wrong, you may be far away from the medical intervention that is needed. You will also need to make sure that your LMC is happy to attend a home birth.
This article was written by Joanna Bounds for Kidspot, New Zealand's best pregnancy, labour and birth resource.
Related pregnancy conditions articles: