Help! My child is a social media alien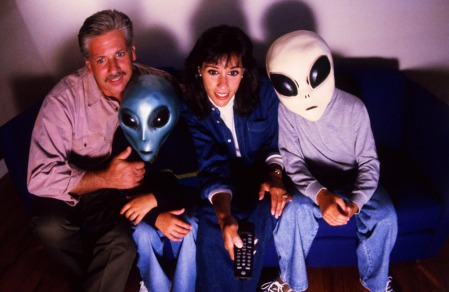 My daughter comes from planet social media
It's official. I'm living with an alien. That's right, a completely foreign creature lobbed uninvited into my house about five months ago, taking over my daughter's room, snatching away her warm personality and destroying our harmony. You see, I'm living with a 14-year-old girl. When I say I'm living with her, I'm actually supposed to be raising her. I made that commitment when I gave birth to her in 1998, and up until late last year we were trundling along quite nicely. With just the pair of us in the house, life was fairly uncomplicated. We shared laughs, dreams and dramas, and of course the odd spat. Life was good for our little team of two.
But then something happened, and I'm damned if I know what it was. There was no warning, it was like a slow rolling, silent tsunami gradually gaining momentum before crashing down on me full force, knocking me sideways and turning my safe, secure world upside down.
Alien daughter vs shouting mother
Gone is the smiley, chatty young girl who used to bounce through the door spilling her news of the day in breathless excitement. Instead, this person from a completely different planet now thumps into the house, glances at me briefly to complain how hot/cold/hungry/bored/tired/annoyed she is, and then buries her nose back into her private planet of social media.
I'm the first to admit I haven't responded well to the change. My knee-jerk reaction to being ignored, or growled at, is to shout. Loudly. To which she accuses me of being rude, or over-reacting. To which I shout even louder. To which she returns to her cyber network, no doubt to bitch about her rude, over-reactive, shouting mother. Her friends are now her driving force, providing the haven I used to offer so unconditionally. I am no longer relevant, my opinion doesn't matter, my feelings are immaterial. Don't get me wrong, I'm thrilled my teen has friends, I'm thrilled she likes spending time with them and I'm thrilled she's starting to meet boys. But there's a sense of fearful helplessness watching her drift further and further away as their influence replaces mine.
Is 14 the new 18?
Steve Biddulph, author of Raising Girls, the partner book to Raising Boys, explains that 14 is the new 18, and the age where a girl is most likely to go off the rails. He says early sexualisation has been triggered by their obsession with body image, fashion and social media, and resulted in our girls being treated as a sexual commodity. He predicts that one-fifth of them will have three or more sexual partners by the age of 17. Alcohol abuse and mean, nasty girls are the other hazards of this alien world our daughters live in – a world played out largely in cyberspace and out of our parental orbit.
I have no idea how long this alien is staying, but I suspect it's for a while. I do know however these next few years will be a battle, a mighty one. And it's one I can't afford to lose.
May the force be with me.
This article was written for Kidspot and is based on an article originally posted by Wendy Kay on parenting.kidspot.com.au
Find more Tweens to Teens articles