Boundaries, teenagers and not fencing them in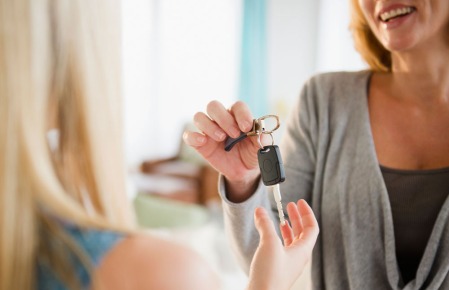 When faced with "whatevs" and that generally bored, passive-aggressive face that only teens can produce, it can be difficult for parents to set boundaries. How many times can you say "no" before you sound like a broken record? How do you lay down some ground rules that your teenager will actually follow? And how do you keep them safe, while encouraging their independence?
We asked child behaviour consultant Nathalie Brown of
Easy Peasy Kids
for her advice on how to set boundaries for your teenager.
Turn back the clock
"I put teens in the same band as toddlers: they're unpredictable, they can't explain themselves. With a toddler, they're trapped between the independence they're finding, and the babyhood that represents safety. Teens are the same, only they're moving from child to adult. It's literally a temporary glitch in their brains. So when you're setting boundaries, they need to be firm, but not too many. Too many and they get diluted. Even when you speak to a teen, keep it short and quick and get to the point. They switch off if you give them too much information."
Put yourself in their shoes
"We've all been through the teenage years, but it's hard for us to remember what it was like. I spend a lot of time with parents, trying to make them think back to when they were teens – remember the homework, peer pressure, first love, self-consciousness. Now there's social media as well, which is very big."
Take the three-rule approach
"I get parents to plan and prepare what they think is important before they speak to the teenager. Is it that they must call if they'll be late? That they need to leave the address of where they're going? No Facebook after 11pm or in their bedroom? Once you have those in your head, it's time to discuss them with your teenager."
Everything's negotiable
"Ask them what they think is fair. Tell them it's all negotiable – to a point. If you set the boundaries too strictly, they will rebel. Perhaps let them know that the rule can be reviewed after three months. So if they want to stay at parties until 12am, but you want them home by 11pm, give them three months to show they can get home by 11pm, and then discuss it again. Give them a chance to take responsibility."
Provide options
"Suggesting options is also a good idea. If they want to go to the party and stay until 12, let them know that's okay – as long as you can come and pick them up at 12am, and ring the family beforehand to make sure the party is still on until 12am. The teen can decide which is the lesser evil."
Explain your priorities
"I get the parents to explain to the teen that they, the parents, need the knowledge that the teen will be safe and okay. You understand that they want their freedom, but your main priority is their safety."
Timing is everything
"Choose the right time for your conversation – the teen brain takes a while to get going in the mornings, so that's not the best time. Weekends, and early afternoons are probably best. It can also help to give them notice of the conversation."
Start early
"If you start early with boundaries, it's much easier as a teen. If you're strict already, it's just a matter of loosening the boundaries. They take in around 95 percent of their values from birth till they're five, and then around five percent in their teens. But whatever they start out with, if you reinforce it as they're growing up, that will supersede peer pressure. It's still in there."
This article was written for Kidspot and is based on an article originally posted by Allison Tait on parenting.kidspot.com.au
Find more Tweens to Teens articles