Inspiring Kids to Play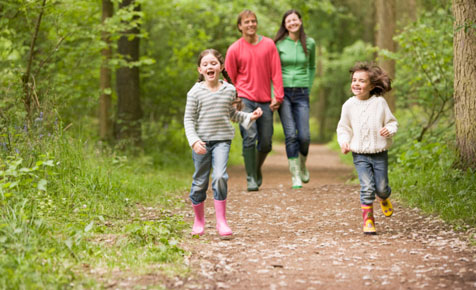 Active play should be enjoyed by kids, each and every day. But a recent study has found that 46% of Kiwi kids are not engaging in active play every day. Kidspot has brought together some ideas to help parents encourage their children to get up and go play.
Turn off the screen
This an obvious one but probably the hardest habit to break. Health organisations recommend that children should reduce sedentary activities like watching TV, playing on games consoles or using the computer to a total of less than two hours per day. Rather than trying to get the kids to turn the TV off, you may have more success by having them not switch it on in the first place! If the kids have a tendency to flick on the TV as soon as they walk in from school, change the routine and break the habit. Stop at the park on the way home from school, go for a bike ride or head to the local pool or beach for some active play and you'll find that TV and video games don't even get missed.
Join in
As much as we always pretended that our parents were "lame as" when around our friends, we will freely admit now that it was the time spent playing with our parents that are some of the most memorable. Kids love having their parents join in with their play. Go throw a frisbee, go on a bike ride with them or play some backyard cricket. It's not only great for them – it's good for you too!
Be spontaneous
Avoid scheduling every moment of your kid's time out of school with extra-curricular activities. Go with the flow and enjoy some spontaneous play time with the kids. Add active play wherever and whenever you can. Keep a ball in the boot of the car for on-the-spot fun when you're out and about or a smaller one in your handbag.
Think outside the box
When was the last time you played a party game when there's no party? Musical chairs, treasure hunts and silly balloon games are just as much fun with only a few kids (and even more fun with parents thrown in too!). Set up an obstacle course in your back yard, have a trampoline challenge or train the dog – think of new ways to enjoy active play with your kids.
The basics
You don't need expensive sports equipment to have fun. Kids are notorious for getting more fun out of the box than the toy that came in it! With just the basics like a ball, skipping rope, pavement chalk and a bit of imagination the kids will come up with a hundred different ways to play.
Keep it fun
Nobody's perfect! So they don't kick the ball straight or haven't managed to get the basketball in the net after 48 attempts – so what! Offer your child assistance to help them learn but don't nag them into getting everything perfect or they won't want to play any more.
Make it safe
All parents are concerned with their child's safety. But it doesn't need to take over all of their play time. If you want to ensure your children are safe at the park, then go with them. Always supervise potentially risky activities such as swimming. If time is at a premium for you then share the excursions with your partner, family member or take a friend's children with you and ask them to return the favour some time.
The gift of play
Got a birthday coming up? Buy gifts that encourage active play, like a skateboard, bike or hula hoop.
Rain or shine
Encourage kids to play outside no matter what the weather (within reason, of course!). Just make sure they dress appropriately.