Fun family-friendly adventure holiday ideas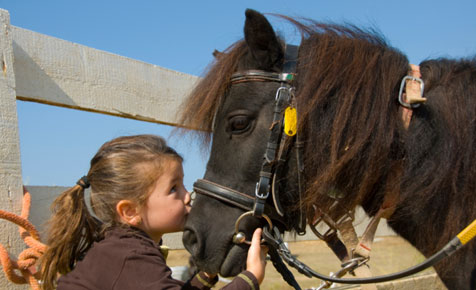 To create a family holiday that your kids will never forget, try exploring the great outdoors in your local area, or further afield around our extraordinary country - a landscape that offers almost every diversity you can imagine.
A family adventure holiday needn't be abseiling and canyoning, mountain-climbing or pot-holing (but it can be). It could be horse riding and kayaking, a treetop adventure and snorkelling, or bush-walking and swimming.
Saddle up
Horse riding holidays are a terrific way to explore the countryside, take some responsibility to care for another living thing and bond with your family. Stables and farms around the country offer everything from hour-long trail rides or day-long excursions to three or four day trips that include camping. However, this is not a holiday for children under the age of six as it's a lot more physically taxing then you might think.
Bush-bashing holiday
Bush walks are often something you can do in your own backyard, but with a bit of planning you can explore native bush in many stunning locations in New Zealand. From day walks to eight-week hikes, the whole family can join organised walks. Children aged six years and up can experience 4km round trips, or you can extend it to suit your family's fitness levels. If you can plan ahead (backpacks and rain gear are essential), you can make it as strenuous or as relaxing as you like. DIY bush walks are also a great way to have an adventure because if you have a baby or young toddler, you can pop them in a backpack or sling and away you go.
Check out:
National parks
Protected areas of natural beauty abound in New Zealand and they offer the perfect place to have a family adventure holiday. Kayaking, bush walking, rock climbing, horse riding, camping and mountain biking are just some of the many options you can choose to suit your family. Accommodation can take the form of cottages, cabins, BYO caravans or tents and you're free to explore the areas.
Check out:
Camping
Try a family camping trip in a low-tech tourist park where you can horse ride with your children, fish in the lake, float on an inflatable down the river or go kayaking. Up with the birds, down with the sun, you will all be shattered, but in a good way. New Zealand is blessed with a wide range of camping grounds from fully serviced with WiFi to long drop toilets however they all offer a great way to spend family time.
Adventures for older kids
Some adventures have to wait until your children are older. In-pool scuba diving with PADI is available from the age of eight, with open water on offer from age 10 with a limit on how deep they can dive. Kayaking tours often have age restrictions although day trips on your local lake or lagoon are unrestricted if you have an adult with the child.
Day adventures
Not every adventure holiday has to be a long-distance trip. You can choose to have a different holiday on your own doorstep. From camping in the back yard, to hitting a nearby beach. Check out what you can do in a town near you, in Kidspot Weekend.
This article was originally written by Claire Henderson and was adapted for Kidspot New Zealand