8 tips for starting school with a nut allergy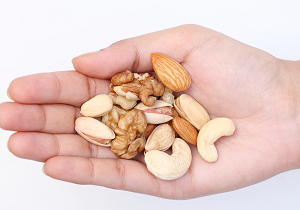 Starting school is a big deal for any kid, but for children with food allergies, it's especially challenging. When my daughter, who is allergic to peanuts and eggs, started school two years ago, I had no idea what to do. We nervously handed in her Anaphylaxis Action Plan, put allergy-warning stickers on her lunch box and hoped for the best. Fortunately, I've learnt a bit since then.
If you also have a child with a food allergy, here are a few tips to keep your little one safe at school.
8 tips for keeping your child with food allergies safe at school:
1. Educate your child about their allergies
It sounds obvious, but make sure your child knows what they are allergic to and what foods are likely to contain that allergen. Remind them to never share food. If they are unsure what a food contains they should just say 'no'.
They also need to know how to recognise the symptoms of an allergic reaction. Finally, if they feel sick or worried, they should ask a teacher for help.
2. Ask for a face-to-face meeting with the school to nut out the tough issues
Many parents assume their child's school will be nut-free because daycare was. But that's not necessarily the case. Under new official Department of Education procedures, every parent of a child with severe allergies should have a face-to-face meeting to work out specific strategies that will reduce the risk of their child having an allergic reaction at school.
While you've got their attention, double-check that:
the school staff are properly trained to use an EpiPen
they have a spare adrenalin auto-injector in their first aid kit
the staff are willing to give your child a second EpiPen if needed.
These three things can mean the difference between life and death.
3. Send a note home to the other class parents
Informing the other parents of your child's allergy is one of the most important things you can do. You may need to request that they don't send certain foods, such as peanut butter, to school. Include some info about your child's allergy and ask the other parents to remind their child not to ever share food. I've found food-sharing to be a big problem and I've had to raise this issue again and again.
4. Ask the teacher if you can speak to the class about food allergies
If children understand food allergies, they are less likely to pressure your child into eating something they shouldn't. Take along a copy of an engaging storybook (such as my book, Marty's Nut-Free Party, or The Princess and the Peanut) or a video (such as the Trigger Film). Give each child something to take home, like a colouring-in sheet, a 'Please don't share food' sticker for their lunch box, or an allergy-free recipe or treat.
5. Find out how the school canteen really operates
If your child is anything like mine, she'll probably beg, borrow or steal money to buy the latest canteen food craze, but we've decided the school canteen is strictly off-limits. While our school canteen is officially 'nut-free', it sells many items that 'may contain traces of nuts'. These foods aren't safe for children at risk of anaphylaxis to nuts and mistakes can easily be made. (On one occasion, a canteen volunteer checked the wrapper of an iceblock, but didn't check the box, which contained the nut warning).
Unless a canteen volunteer is used to dealing with severe food allergies, they may not be vigilant enough. Most people don't expect foods like bread, tomato sauce or biscuits to be possible sources of nuts.
6. Develop a strong relationship with your child's teacher
If it's at all possible for you to volunteer in the classroom, then do it. This will help you develop a strong relationship with the teacher, but also keeps you in touch with what's happening in the classroom. Knowing in advance that the class will be doing an activity involving food gives you a chance to supply a safe substitute for your child. Looking after a child with allergies is a shared responsibility, so developing mutual trust is essential.
7. Give your child opportunities to be assertive and permission to be different
Naturally we all want our child to fit in, but for children with allergies, being able to speak up, ask questions and confidently say 'no' is a survival skill. So give your child opportunities to be assertive. I often remind my daughter that she should never be ashamed to tell people about her allergies. Just the other day she said "I don't mind having allergies. It makes me different and I like who I am".
8. Keep communicating
Although your child's food allergy will always be at the forefront of your mind, it may not be for the other parents in the class. Keep gently talking about it. While we're not suggesting that you turn every conversation back round to your child's allergies, you can share helpful articles on Facebook or by email. Getting people talking and thinking about food allergies can only be a good thing for our children.
Katrina Roe is the author of Marty's Nut-Free Party and speaks regularly to schools and preschools about food allergies.
Read more on allergies:
This article was written by Katrina Roe for Kidspot.com.au and has been adapted for Kidspot.co.nz