Fuss-free lunch box ideas for good nutrition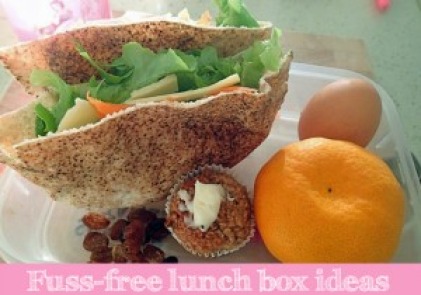 When it comes to lunch box ideas, most parents find it's a fine balance between packing what we think is right and what we know our children will eat. The fact is that we're not there to supervise in the schoolyard and external stimuli such as time and what other children are eating play a role in what 'boomerangs' home in the afternoon.
So what makes a healthy lunchbox and ticks all the nutritional guidelines in simple terms?
Leanne Cooper, nutritionist from Cadence Health puts it simply:
"Lunch boxes should be made up of four main components. The first one is a main item such as a sandwich, wrap, pasta with vegetables, soup, frittata or sushi. The second component is whole fruit, cut up veggie sticks, canned fruit in natural juice, or a small salad. The third component is a second snack based on a core food* product such as reduced-fat yoghurt, grainy crackers with reduced-fat cheese, plain popcorn, a slice of raisin bread, a wholemeal fruit muffin, a boiled egg or a can of tuna, and finally a drink . Water is best. "
* Core foods include vegetables and legumes/beans, fruit, grain (cereal) foods – mostly wholegrain and/or high fibre, lean meat and poultry, fish, eggs, tofu, nuts and seeds, and legumes/beans, milk, yoghurt, cheese and/or their alternatives – mostly reduced fat.
So just what does all this mean?
One thing I try and keep in mind is trying to bring as much colour and crunch to a lunch box as possible. This will alleviate the all 'white' lunchbox syndrome (think pasta, white bread, biscuits and overdoing the dairy) and bring an element of surprise and excitement once your child sits down to eat.
Most confusion about the lunch box seems to come from the subject of snacks, so let's clear things up!
There are many food manufacturers out there convincing us that they will make our lives easier with bulk-packet processed products, but these are the ones we want to avoid. It's startling to realise the amount of sugar found in a humble store-bought muesli bar (up to 6 grams), a juice popper (20 grams) and an innocent packet of sultanas (20 grams). This can take a simple snack to a whopping 46 grams, which equates to around 11 teaspoons of sugar; far above the recommended daily recommendation of 12 grams for children. The same applies for hidden fat (think crackers, crisps, cake, etc), which binds most snacks together. Avoiding pre-packaged 'convenience' foods and packing foods that are as close to nature as possible is the simplest option.
Here is what a simple, balanced, minimal-fuss lunch box looks like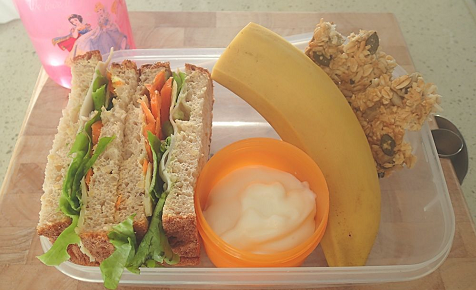 Lunch box 1
Sandwich on grainy bread with avocado, lettuce, carrot and chicken
Piece of fruit – banana
Snack based on core food groups – pot of set yoghurt and homemade muesli slice
Bottle of water
Lunch box 2
Egg and lettuce on wholemeal wrap
Fruit – apple
Snacks based on core food groups - celery and carrot sticks with grated cheese and Vegetable pikelets
Bottle of water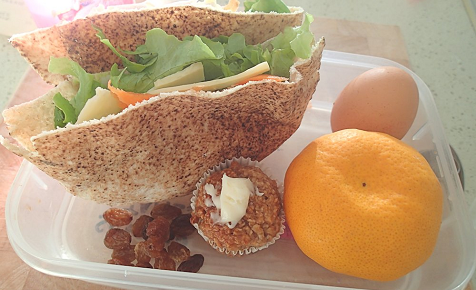 Lunch box 3
Wholemeal pita pocket filled with avocado, lettuce, carrot and cheese
Fruit – mandarin
Snacks based on core food groups – boiled egg, 10-12 sultanas and homemade banana mini muffins.
Bottle of water or plain mini milk carton
Of course, if your child is active and sporty then compensate for the extra energy burned by adding larger portions or another snack from the core food groups.
TIP: Bake up batches of healthy muffins, slices and bars on the weekends, wrap in portion sizes and store in the freezer and your daily lunchbox snack dilemmas will be a thing of the past!
Popular lunchbox ideas and recipes
Find advice and information on preparing school lunches
This article was written by Karla Gilbert for Kidspot.com.au and has been adapted for Kidspot.co.nz