Book Review - Everyday Delicious
Chelsea Winter's second recipe book offering, Everyday Delicious, promises delicious, achievable recipes that in the most part use easily sourced (ie lurking in your pantry and fridge) ingredients. Let's see if it delivers.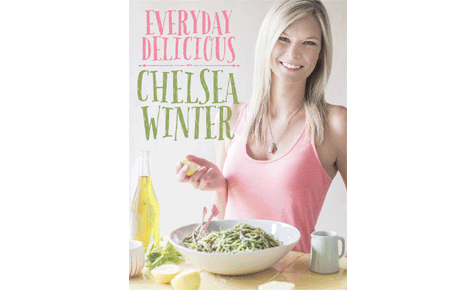 Review: Everyday Delcious, by Chelsea Winter, RRP $49.99. Published by Random House 2014.
When 'Everyday Delicious' arrived in the post for me to review, I already had mince for that night's dinner out on the bench thawing. In to the recipe book I dove and up I came, mouth watering, with 'Best Ever Spaghetti and Meatballs'. A quick look through the pantry and drawers confirmed I had every ingredient, including the red wine! The aroma wafting through the room as it was cooking was mouthwatering and the meatballs were indeed the 'best-ever' our family have had.
The next recipe we tried was Sticky Pork Ribs - and the only ingredient (other than the ribs) I had to buy was the pineapple juice (I bought a tetrapak and froze the remainder in 1 cup lots ready for the next time I cook them). In actual fact it was my 15 year old daughter and 16 year old nephew who made this recipe - and without a fuss! The only time they nearly came unstuck (see what I did there) was when they tried to use 1 1/2 cups of beef stock POWDER instead of actual beef stock! The ribs were delicious and sticky as well as being tender enough for my daughter with braces to pull the meat from the bone.
The Corn, Courgette and Feta Fritters were also a success. Light and fluffy - not stodgy at all like other fritter recipes I have tried. The kids gave them a 9/10 and an 8/10 (it wasn't 10/10 as she doesn't like corn!). I doubled the mixture for our family of 5 and this was a just perfect amount.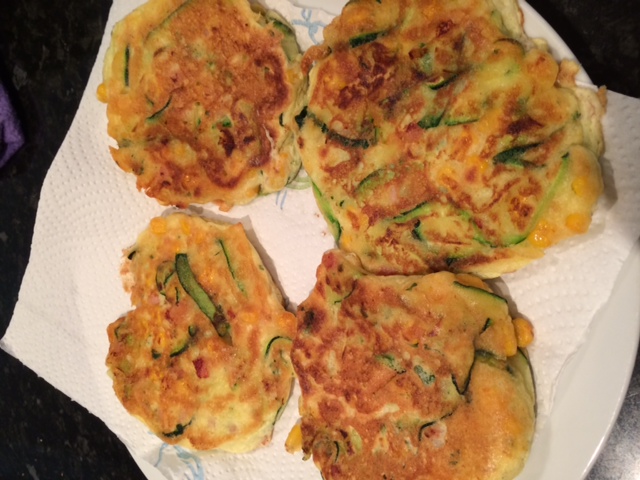 Here is a photo of my fritters - you will see that the courgette is peeled into ribbons rather than grated. Much more attractive and also makes the fritter less soggy.
'Everyday Delicious' is divided in to 4 sections - breakfast, small meals, mains and sweet things. The recipes are essentially a new and tasty version of what have become popular kiwi food - good enough to serve to friends but equally quick and easy to become part of your weekly offerings.
I have a history of being tempted by beautiful recipe books but then only found one or two recipes that I have used. 'Everyday Delicious' however is packed with recipes that I will indeed use every day. I already have three firm favourites and have made the meatballs repeatedly. We put the claim of using easily sourced to the test and found it to be accurate - in fact many ingredients are used in multiple recipes. This is a great money saver - as well as space saver in the pantry.
I recommend this recipe book if you would like to expand your 'go to' repertoire. It is also ideal for the cook who is wanting to get some of the basics (fritters, macaroni cheese, meatballs) firmly conquered - however the variety of recipes will take them a lot further than that on their food journey. Finally, its a great book for your teens to use - and a fantastic going flatting gift too.
This review was written for Kidspot by Robyn Cody.
Want to be a book reviewer for Kidspot?
The Kidspot Book Club is on the hunt for mums who love to read. Join the Club and let us know what you would like to review!