6 ways to say goodbye to the dummy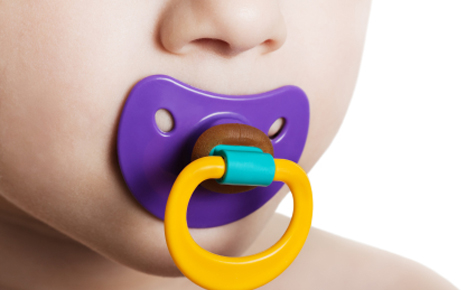 Soothing a screaming, unsettled baby is not for the faint-hearted. When nothing else seems to work, a dummy is often the only thing that will help calm a fretful bub or guide a screaming infant into restful slumber.
Unless your child decides to give up the dummy on their own, getting rid of it may not be an easy task. But when the dummy becomes more of a problem than a solution, you know it is time to do something about it.
There are many different approaches to weaning your child off the dummy and not every approach will suit every family. Here are 6 different ways to separate dummy and child for good:
For younger children
1. Restrict dummy usage - allow your child to only have the dummy at sleep times and at other very specific times, such as when they are in the car. Give or show them definite boundaries so that they understand when they can and can't have the dummy.
2. Totally remove the dummy - once your child is used to restricted dummy usage, take the dummy away altogether. The best time to do this is before they are six months old. After this age, attachment to the dummy becomes a lot stronger. Be prepared for a few nights of crying until your child gets used to falling asleep unaided. Going into their bedroom and reassuring them with kind words and a gentle touch will help to minimise your child's distress.
For older children
3. Make a dummy reward chart – in much the same way you would with a toilet training chart, this approach rewards children with stickers for every sleep they have without the dummy. Once a pre-determined number of stickers are collected, your child can be rewarded with a big present!
4. Create a reason to give up the dummy - together with your child agree on a worthwhile recipient of the used dummies. Perhaps they are needed by sick babies in hospital or maybe they need to be sent to brand-new babies who haven't got a dummy yet. Once the reason is established, hang the dummies on a washing line or tree. By morning the dummy fairy will have magically taken the old dummies to their new homes.
5. Take a trip to the dentist – arrange for the dentist to explain to your child that the dummy could damage their big teeth and make them crooked. Plant the seed in your child's head that crooked teeth may need braces to make them straight again! Their response may surprise you!
6. Give your child the power – ask your child to nominate a time and place to throw the dummy away – and hold them to it! Maybe even throw a dummy 'disposal party' for family and close friends.
Involve your child in the planning process as much as their age will allow. As with any major change in a child's life, it is important to make sure that they feel safe and reassured during this process.
This article was written by Jo Harris for Kidspot, New Zealand's leading online parenting resource from sources including Raising Children Network