2015 Movie Guide - Summer and beyond
What's hot at the cinemas for Summer plus we share a selection of what's to come in family movie entertainment for 2015.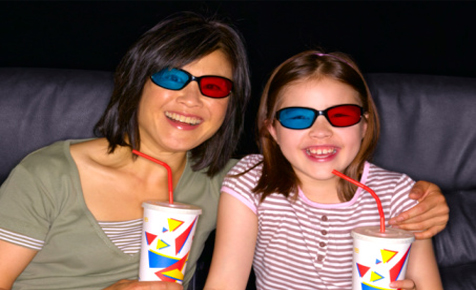 NB Please note that expected release dates may change. Check with your local cinema for the audience ratings for these movies at the time of release. For more information on ratings and classifications click here.
Big Hero 6
Disney Animation's new family sci-fi movie, Bg Hero 6, has action and superhero adventure covered. But it also has adorable and cute covered! Young robotics prodigy, Hiro, and his robot Baymax, team up with a group of friends to save the city. Oh, and did we mention Baymax is adorable!
Release date: In cinemas now
For more, visit the Big Hero 6 Facebook page.
Paddington
Paddington Bear, from deepest darkest Peru, has been a childhood favourite story for decades. Now the bear with a tendency for marmalade and all things British hits the cinema screens for the first time. Starring basically every British actor and actress that are still alive ...
Release date: In cinemas now
For more, visit the Paddington movie Facebook page.
Annie
What do you get when you mix a classic stage musical with the production skills of Jay Z and an Oscar-nominated child star? A new movie retelling the story of Annie - the little orphan who sees her life change beyond all recognition when tycoon and mayoral candidate Will Stacks takes her in.
Release date: In cinemas now
For more, visit the Annie movie site.
Cinderella (2015)
One of the most beloved of Disney's princesses, Cinderella, goes to the ball in a stunning live-action version of the classic fairytale. Lily James tries on the glass slippers to win the heart of a prince, under the astute eye of Director, Kenneth Branagh.
Release date: March 2015
For more, visit the Cinderella movie Facebook page.
The SpongeBob Movie: Sponge out of Water
Everyone's favourite invertebrate, makes his way out of the water and onto the big screen. SpongeBob SquarePants heads ashore in his quest to find the stolen secret Krabby Patty recipe. The movie which features a mix of live-action and animation, sees SpongeBob and his friends take on Burger Beard the Pirate (Antonio Banderas).
Release date: April 2015
For more, visit The SpongeBob Movie website.
Avengers: Age of Ultron
The original Avengers movie is widely regarded as one of the best superhero movies of all time. Now Captain America, Iron Man, Thor, The Hulk are back to fight another deadly force - Ultron. The stakes are high, the action is out of this world and the direction and writing of Joss Whedon is set to take this sequel to new heights. Be warned though, the baddie this time around is so menacing that this may be a movie just for the older kids.
Release date: May 2015
For more, visit the Marvel website.
Minions
It was pretty inevitable that the cuttle little yellow guys from the Despicable Me movies would end up with their very own movie. I mean, who doesn't love a Minion, right? Set before becoming Gru's villanious cohorts, the Minions are recruited by super-villain, Scarlet Overkill (Sandra Bullock) in a plot to take over the world.
Release date: June 2015
For more, visit the Minons Movie website.
Jurassic World
The vision of Jurassic Park has become a reality and Isla Nublar is now am amazing dinosaur theme park. But Jurassic World is failing to draw visitors and a new attraction is needed to draw the crowds back. Needless to say, it all goes horribly wrong and there's a lot of teeth involved!
Release date: June 2015
For more, visit the Jurassic World website.
Pan
J M Barrie's classic fantasy tale of the magical world of Neverland. An ophan boy is spirited away to his new home - full of fun and danger - to eventually become the hero known as Peter Pan.
Release date: July 2015
For more, visit the Pan website.
Star Wars Episode VII - The Force Awakens
Star Wars is back - need we say more? Basically, this will be the only movie anyone's talking about as we near the end of 2015. Prepare for an onslaught of Star Wars movie merchandise for Christmas!
Release date: December 2015
For more, visit the Star Wars website.
Strange Magic
With a story by George Lucas and inspired by "A Midsummer Night's Dream", Strange Magic is a fairytale musical with a lot of weird (and I mean A LOT!) and a good dose of wonderful characters. The colourful cast includes goblins, elves and fairies; all involved in a madcap battle over a magical and powerful potion. Thrown in some hit pop songs from the last six decades and that's the recipe for a hit movie.
Release date: 2015 (Undated)
For more, visit the Strange Magic Facebook page.