5 ways to simplify your school morning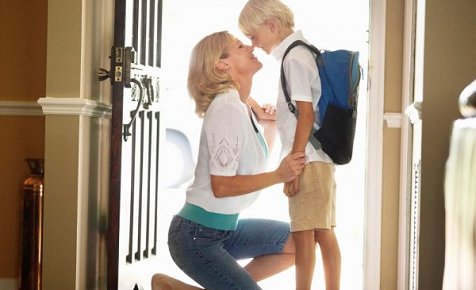 Starting school can have a huge impact, not only on your little one, but on your home and family life as well.While we spend significant time and energy preparing our little ones for the school transition, rarely do we consider the effect the change will have on us as parents. That's why we've got some practical steps to ensure your school mornings are as smooth and shout-free as possible.
Consider these five simple ways to make school mornings possible (and somewhat enjoyable).
1. Get up earlier than your children
This is a tough one if you've got a baby, but I honestly believe that the best way for me to deal with school mornings is to get up a good 30 minutes before the children. If I can be showered, dressed and have a cup of tea in hand by the time the kids wake up, I feel like I am well on my way to having a relatively calm morning. It should be noted, however, that a big part of getting up early is going to bed early. This requires discipline on your behalf, but it's worth it in the long run.
2. Make it easy for your child to get dressed and ready for school
Create a list with your child and run through it a few times – school morning prep is much the same, every day. But don't presume that means it's going to be easy for your child to stay on track. To make life a little easier, you could embrace the notion of handing over responsibilityand nurturing your child's independence; Create a school drawer in their wardrobe – with school shirt, shorts, socks, underpants and hat all kept in the one place to ensure easy dressing. You could also stick a list on the bedroom wall which, very simply, explains the morning's (ideal) procedure: breakfast, get dressed, brush teeth, pack bag (lunch, homework, hat), shoes on, out the door.
3. Take 15 minutes on a Sunday night to prepare for the week ahead
I know Sunday is a rest day but I admit, I revel in the opportunity to spend an hour on a Sunday afternoon getting ready for the week. This goes for your child, too. A few things they can do to ensure the week starts in the smoothest way possible: ensure all items of the school uniform are clean and in the uniform drawer; locate library books, put them in the library bag and place the bag on the bedroom hooks or door handle; polish school shoes and place them next to the school bag or at the front door.
4. Prepare lunch boxes and drink bottles the night before
I like to pack lunches fresh in the morning (but some swear by doing it the night before). Regardless of your method, it always helps to have the lunch boxes and drink bottles clean, ready and waiting on the kitchen bench.
5. Give your child a 15-minute warning
Tell your children that you're leaving for school in 15 minutes (but make sure you say it a good 25 minutes before you intend to leave). This little gem was passed on by a friend of mine and it really works. By staying aware of the time and literally 'counting down' for your child, you minimise the frantic rush when it is time to leave the house (which, let's be honest, always takes longer than we intend).
This article was written by Jodi Wilson for Kidspot.com.au and has been adapted for Kidspot.co.nz