Breastfeeding and intelligence: Is there a link?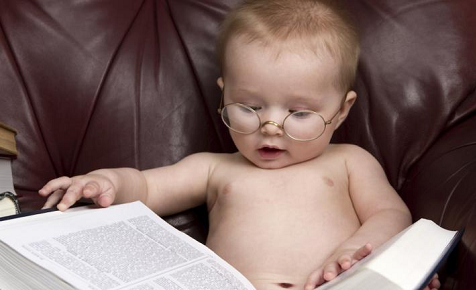 It's a gutsy statement, but a long-term study in Brazil is claiming that breastfed babies are more likely to turn into well-educated and higher-earning adults.
For more than 30 years, researchers followed nearly 6000 babies from birth, to get an idea of the long-term effects of breastfeeding. Nearly 3,500 of those babies, now 30-year-old adults, accepted an invitation to be interviewed and sit IQ tests for the purpose of the study.
Dr Bernardo Lessa Horta from the Federal University of Pelotas in Brazil, wanted to expand on the common idea that breastfeeding can increase a child's IQ by a small amount, by looking into what impact breastfeeding as an infant had on us as adults.
What exactly did the study conclude?
The participants in the study came from all sorts of socio-economic backgrounds, and Dr Horta claims it was not just the more affluent and educated mothers who breastfed in Brazil.
The research, published in The Lancet, found that all the breastfed babies had greater intelligence - as measured by a standard IQ test - had spent more years in education and had higher earnings.
Dr Horta and his team also identified that the longer children had been breastfed, the greater the benefits. Children who had been breastfed for 12 months had an IQ that was four points higher than those breastfed for less than a month, had nearly one year more schooling and earned around $135 more a month – about a third more than the average income level.
Is it all down to breast milk?
OK, so numerous studies have told us that breastfed children have better educational outcomes later on in life, but those studies don't often look into why that is so.
Is it something in the milk? Are the attributes that a breastfeeding mother possesses different to those a bottle feeding mother has? Something to do with bonding? Just to clarify, as a mother who yearned desperately to breastfeed, I would argue that my ability to bond – sans-nipple attachment – was just as great as my milk making counterparts.
So what is it, then?
Sociologists from Brigham Young University think they have the answer and it has zero to do with milk.
According to Ben Gibbs – lead researcher - it's not the milk, it's the parenting – and socio-economic reasons might be playing a big part.
The research pinpoints two reasons for the cognitive boost in breastfed babies: responding to children's emotional cues and reading to children from about nine months of age – which are two things that breastfeeding mothers tend to do, according to Ben.
Sensitivity to emotional cues and time reading to children could yield two-to-three months' worth of brain development by age four, as measured by maths and reading readiness assessments. The research looked at national data that followed 7,500 mothers and their children from birth to five years of age. The data was rich in information about the home environment and how much mothers were responding to their children, as well as reading to them.
The researchers noted that the most 'at-risk' children were also least likely to receive the optimal parenting in early childhood. For example, single mothers that had to return to the workforce did not have the same luxuries when it came to breastfeeding and spending quality time with their children. In addition, parents with little education themselves don't necessarily hear about research-based parenting practices.
Speaking of the children with higher intelligence Ben said: "This is the luxury of the advantaged. It makes it harder to think about how we promote environments for disadvantaged homes. These things can be learned and they really matter. And being sensitive to kids and reading to kids doesn't have to be done just by the mother."
Dr Horta also acknowledged that he could not completely rule out the possibility mothers who breastfed helped their babies' development in other ways.
"Some people say it is not the effect of breastfeeding but it is the mothers who breastfeed who are different in their motivation or their ability to stimulate the kids," he says in an interview with The Guardian.
There is good stuff in the milk, though
But, Dr Horta said, there is evidence from other studies of the nutritional value of mother's milk, rich in long-chain polyunsaturated fatty acids that are essential for brain growth. Some studies have suggested babies with a particular genotype are more likely to get the IQ benefit from breastfeeding than others, something he and his team will look into further.
Dr Colin Michie, chair of the Royal College of Paediatrics and Child Health's nutrition committee, concludes for The Guardian:
It's widely known that breastfed babies are better protected against chest and ear infections, are at less risk of sudden infant death and are less likely to become obese, but it's interesting to see the benefits of breastfeeding for a prolonged period of time not only benefit the baby in the early years, but also translate into increased intelligence and improved earning ability later in life.

It is important to note that breastfeeding is one of many factors that can contribute to a child's outcomes, however, this study emphasises the need for continued and enhanced breastfeeding promotion so expectant mothers are aware of the benefits of breastfeeding. Furthermore, once mothers have given birth, we must ensure they are properly supported to continue breastfeeding for as long as they are able to.
What do you think about this research? Would you agree with the conclusions?
This article was written by Rebel Wylie and adapted for Kidspot, New Zealand's leading resource for parenting and pregnancy.
NB Comments are moderated by Kidspot and must not contravene our Terms of Service.
Breastfeeding is best for babies and provides many benefits. Combined breast and bottle feeding in the first weeks of life may reduce the supply of your own breast milk. Always consult your doctor, midwife or health care professional for advice about feeding your baby. This post is part of the Early Life Nutrition story.