Optimise your nutrition for conception
There are some things you can do to improve your health and nutrition. Try them when you are trying to conceive
During pre-conception, pregnancy and before a child turns three the right nutrition can help protect against the threat of allergy, type 2 diabetes, heart disease and obesity in later life. A panel of experts recently released a Early Life Nutrition Report that compiles an overview of early life nutrition research findings and practical, evidence-based recommendations to maximise nutritional status before and during pregnancy, as well as during infancy and early childhood, when the foundations of future heath are created.
From the experts
Neonataolgist, Associate Professor John Sinn said A"Pre-conception, pregnancy, infancy and early childhood represent critical windows of opportunity for parents to adopt lifestyle changes and nutritional strategies that can improve foetal and childhood development and lower the risks of their children developing certain allergic and metabolic diseases in later life." Further, "Most women know what not to eat during pregnancy, but not enough parents recognise the things they can do to reduce their child's risk of disease in later life," said Dr Sinn.
In addition to providing evidence of the link between early life nutrition and long-term health, the Report also contains recommendations to maximise foetal and childhood development during the period in which the key foundations of future health are formed. "Nutrition is one of the most easily modified environmental factors during early life, and has been shown to strongly influence foetal growth and development, as well as the risk of metabolic and allergic disease in childhood and adult life," said Dr Sinn.
5 things you should do before conception for your baby's future health:
1. Reduce excess weight: Both men and women
2. Follow a healthy diet and lifestyle and cease smoking
3. Ensure any existing health conditions are being treated and well managed
4. Supplement iodine if planning to conceive
5. Supplement folic acid at least a month before trying to conceive. Read more from the experts on early life nutrition.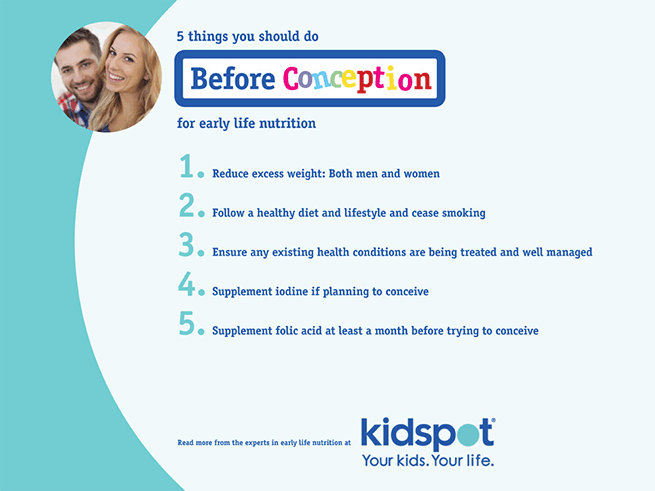 This article was written by Jane Barry and adapted for Kidspot, New Zealand's favourite parenting resource for Early Life Nutrition.
Breastfeeding is best for babies and provides many benefits. Combined breast and bottle feeding in the first weeks of life may reduce the supply of your own breast milk. Always consult your doctor, midwife or health care professional for advice about feeding your baby. This post is part of the Early Life Nutrition story.