The importance of bath time for baby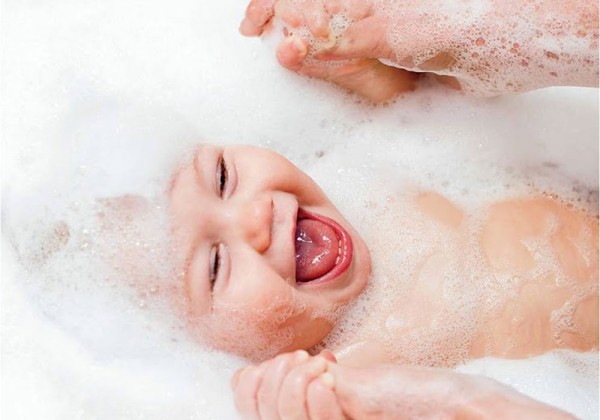 From the crack of dawn it's been go, go, go. Another lunchbox-packing, missing-shoe-finding, grocery-buying, nappy-changing, paperwork-piling, dishes-stacking, washing-hanging, dinner-cooking kind of day. But before you can finally sit back and relax it's bath time for baby. So you run the water, throw in some bubbles, pop baby in and … breathe! For that short space of time it's just you, baby and the warm, soapy water. Time to just enjoy. Time to bond, to babble, to connect.
Bath time is so much more than just scrubbing off the dried up weet-bix from under baby's chin. It provides the ideal opportunity to spend a few extra precious moments, stimulating baby's senses and engaging with touch, smell, sight and sound to discover and explore.
"We know from existing research that multi-sensorial stimulation is absolutely key to baby's brain development. Sharing beautiful experiences like bath time, touch, massage and even verbal communication will not only create special moments between parent and child, but stimulate their baby's brain as well," says respected GP, Dr Ginni Mansberg.
Stimulating through touch and smell
Your baby's first sensory stimulation is through touch whilst in the womb and skin-on-skin contact immediately after birth can have a profound affect on interaction between mum and baby. Routine touch and massage can help develop self-confidence, the ability to connect with others and improve sleep quality.
Your baby develops a sense of smell at 28 weeks into pregnancy – before he's even born! Smell is more closely linked to memory than any other sense, triggering emotional responses. Enjoyable and familiar scents can improve baby's mood or stimulate their alertness. And we all know that the scent of mum is soothing to a baby.
Ways to make bathtime mean so much more
Play with bubbles to help hand-eye coordination

Sing songs or play music to stimulate memory receptors

Talk with your baby, even if they are just babbling in response, to help with language development.

Splashing teaches baby about cause-and-effect

Use familiar scents to calm baby during bath time

Massage as part of the bath time routine is an opportunity for skin-to-skin contact and sensory exploration