The must-see family movies of 2016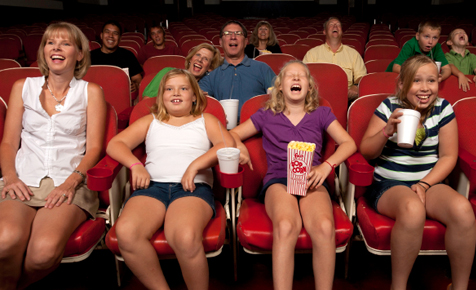 Check out our picks for some of the family-friendly films that hit the cinemas during 2016.
For more information on ratings and classifications click here. Parental discretion is always advised.
Kung Fu Panda 3
DreamWorks Animation have brought their martial arts loving panda back for a third instalment in this popular animated movie franchise. In Kung Fun Panda 3, Po (Jack Black) has a lot to learn if he's going to fulfill the next challenge from his beloved instructor (Dustin Hoffman). He must become the teacher and train a group of fun-loving, clumsy pandas to become martial-arts fighters before taking on the evil Kai.
For more, visit the Kung Fu Panda website.
Zootopia
Imagine that animals not only walked and talked like us, but lived in a city and held down a job! In Disney's new animated feature film, ZOOTOPIA, Officer Judy Hopps is a small bunny trying to solve a big mystery.
For more, visit the Zootopia movie Facebook page.
Robinson Crusoe: The Wild Life
Tuesday, the parrot, lives on a tiny island with his animal friends but longs to discover the world. After a terrible storm, Tuesday and his friends find a man called Robinson Crusoe washed up on their island. Tuesday believes that this man will be his ticket off the island while Crusoe soon realises that survival means finding a way to live in harmony with the animals. When savage cats want to take control of the island their idyllic life is at risk.
For more, visit the Robinson Crusoe move website.
The Jungle Book 2016
Blockbuster director Jon Favreau has taken on the task of remaking Disney's 1967 animated classic, based on stories by Rudyard Kipling. This time round The Jungle Book is a live-action adventure, seamlessly blending with CGI animals and environments. The man-cub, Mowgli, has been raised by a family of wolves but has to leave his home when he is threatened by the tiger, Shere Khan (voiced by the sultry tones of Idris Elba). His journey is guided by Bagheera the panther (Ben Kingsley) and Baloo the bear (Bill Murray) and on his way he encounters Kaa the snake (Scarlett Johansson) and the swinging King Louie (the unmistakeable Christopher Walken).
For more, visit The Jungle Book movie Facebook page.
The Angry Birds Movie
Just why are those birds so darn angry? The popular gaming app, Angry Birds, has got its own movie! In this 3D animated comedy, three birds with some 'anger management issues' live on an island that is, for the most part, a happy place to live. That is until the island is visited by green pigs who may just be up to no good.
For more, visit The Angry Birds Movie website.
Alice Through the Looking Glass
Johnny Depp reprises his crazy role as the Mad Hatter in the sequel to Alice in Wonderland (2010). In Disney's Alice Through the Looking Glass, Alice returns to Underland and travels back in time to save the Mad Hatter.
For more, visit the Disney Alice movie Facebook page.
Finding Dory
It's been 13 years since we all went on the emotional and hilarious epic hunt for Nemo. At long last, Disney•Pixar have provided Finding Nemo fans with another oceanic journey - but this time Dory (played by Ellen Degeneres) takes the lead in a hunt for clues to her past. Just keep swimming, just keep swimming ...
For more, visit the Finding Dory movie Facebook page.
Ice Age: Collision Course
In the latest edition of the Ice Age franchise, the acorn-loving but catastrophy-causing Scrat accidentally sets off a series of cosmic events - ones that could drastically change the world. To protect the herd, our Ice Age heroes, Sid, Manny and Diego, lead a quest to new lands, discovering colourful new characters along the way. Needless to say, there's plenty of comedy and adventure to be had!
For more, visit the Ice Age website.
The BFG
Disney and Spielberg are pretty much a sure-fire hit. Add in a classic Roald Dahl story and this is one not to miss. In this live action family movie, Sophie discovers that the Big Friendly Giant is not so scary after all.
For more, see The Friendliest Giant is coming to town.
Pete's Dragon
Filmed right here in New Zealand, 'Pete's Dragon' is a remake of the 1977 Disney fantasy film. The story features an orphaned boy called Pete and his unusual best friend - a dragon! Starring Robert Redford and Bryce Dallas Howard (Jurassic World), Disney have brought the story right up to date in a film that's sure to have you believing.
For more, visit the Pete's Dragon movie page
Which movie are you looking forward to seeing the most?
NB Comments are moderated by Kidspot and must not contravene our
Terms of Service
.