Sample meal plan for healthy families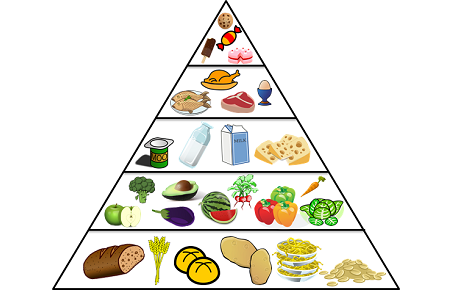 You probably recognise the food pyramid – it's a guide to how much we should be eating of each food group, each day. But how well do you stick to it? Think of an average day and count up how many servings of grains, vegetables, fruit, dairy and protein you and your children are eating.
At the bottom of the pyramid, you have carbohydrates, which are needed for energy. This could be grains and cereals, or starchy vegetables like potatoes. Depending on your age, you need 4-6 servings of grains every day.

Working your way up the pyramid, the next food group you need plenty of, is fruit and vegetables. Daily recommendations are five servings of vegetables and two servings of fruit.
When it comes to dairy, you need at least two servings, and depending on your age, you will only need one to two servings of protein.
How does your daily tally add up? Below is an example of a child-friendly meal plan that includes the correct amount of each food group. Serving sizes will change depending on the age of your child, so younger children may eat less and older children may need more, but the plan may be a useful starting point:
Breakfast
½ cup muesli with milk – try our delicious toasted muesli recipe – and a slice of wholegrain toast with your favourite spread.
Morning tea
Vegetable fritters – you might like to try corn, zucchini or haloumi and silverbeet.
Lunch
A wholegrain sandwich with coleslaw (see our ham and coleslaw sandwich recipe), a piece of fruit, and two oatmeal cookies.
If you're out and about, stop in at Subway - their Kids Paks are a great, age-appropriate portion size (4 Inch Mini Sub) for kids.
Afternoon tea
Carrot sticks with cottage cheese or hummus.
Dinner
Shepherd's pie with a side salad or steamed beans and broccoli.
Dessert
Fruit and custard
This article was written by Kidspot for Subway.